JOYCE & GIRLS
"Introducing Joyce & Girls, a family apparel brand you need to know."

BY VICTOR GEE - 2 JULY 2019
JOYCE & GIRLS Learn more about their history, mindset and direction.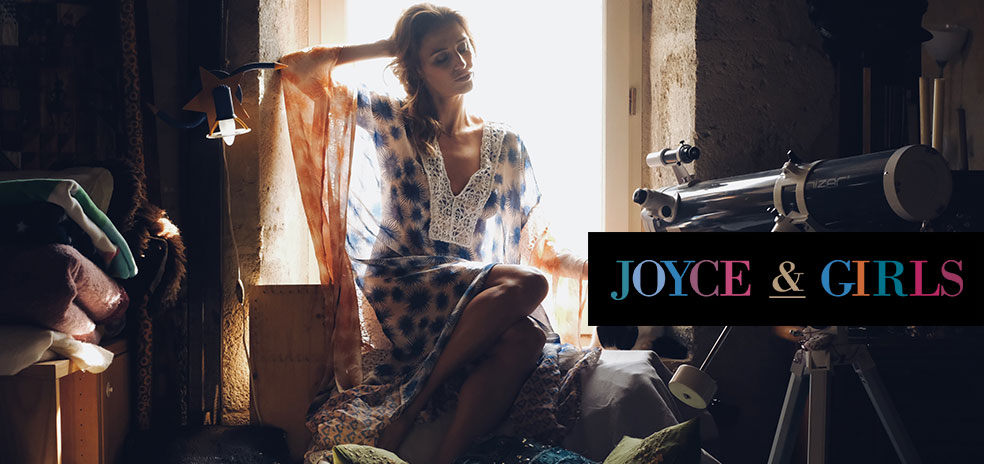 n a world of global enterprises that are dominating the fashion market and bringing together various fashion houses under one corporate name, a family business remains a breath of fresh air.
Authentic, premium craftsmanship of silk fabric, fashion forward and above all adds a bouquet of colors to one's life is what the Joyce & Girls brand is all about.
We sat down with the two brothers and owners of Joyce & Girls, Tristan & Nelson Pirouz to learn more about their history, mindset and direction.
JOYCE & GIRLS Learn more about their history, mindset and direction.
Join Us: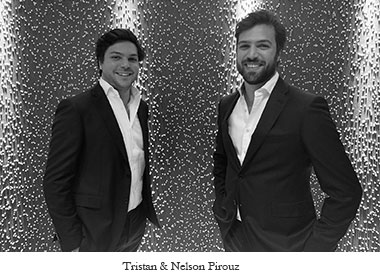 What is the brand's story and DNA?
Well it all started with our mother, Murielle Sapart, who founded Joyce & Girls in 2013. The brand was born out of three seasonal family lines: "Joyce", "Salsa" and "Beach Girl" - merging together to form its current name "Joyce & Girls."
Fast forward to 6 years now, and the brand remains true to the DNA of these three lines combining hand crafted prints, exhilarating colors and one-off silks that are fluid between both city wear and beach chicness.
Introduce us to the two brothers: their backgrounds and current roles in the company.
As children of entrepreneur parents we were raised in the worlds of both business and fashion. For instance, our vacations would typically involve work, so growing up we witnessed first hand what it takes to build a successful business. Whilst we grew up in Germany, our parents gave us the opportunity to travel across the globe at an early age, which led us to learn a lot about various people and their cultures.
During our studies Nelson and I studied Business Management at the London School of Economics. Before joining Joyce & Girls full time, Nelson worked in finance and I worked in digital marketing and sales. Although not typical backgrounds for owners of a fashion brand, it's our business acumen that sets us ahead of the competition.
So what are the challenges of maintaining a family business?
This is a question we regularly encounter as a family enterprise and honestly, touchwood, till this date we have been fortunate enough to not encounter any sizeable challenges.
We are brothers, friends and business partners with different skills that compliment one another. Thanks to this we can divide the responsibilities best suited to our talents with a common vision of how the Joyce & Girls journey should be.
Despite our success so far, we are not complacent, we understand that challenges are inevitable.
How is the creative process like?
It is the handcrafted prints that are at the core of our pieces; they are what make Joyce & Girls the brand it has become today. Each season our Italian fashion and graphic design team develop approximately 40 new prints which each take an average of 190 hours to complete. The prints are based on our brand's 6 personas i.e. playful and fresh in order to remain cohesive throughout the years.
Our personal highlight is watching a collection transform from initial prints to finished articles.
What about the brand's production process?
Throughout the production process we prioritize speed to market without it influencing the excellent quality of our product. It is thanks to this that we have so many loyal customers as well as continually growing our brand.
Where are you currently present in the world?
Joyce & Girls can be found in 550 locations around the world. You can find us in boutiques and department stores from Tokyo to Paris.
We have our largest presence within Europe and for Spring/Summer 2020 you will see this grow even further as we continue to open sales operations in Italy, the UK, Spain, Greece, Cyprus, Russia and Eastern Europe.
With an ever growing sales team we are optimistic about yet more growth across the globe.
What is your advice to all the entrepreneurs out there?
Our advice is simple and can be given in 3 points:
Do not try to compete against the major mainstream players. Be unique and set yourself apart from the masses.
Stay focused and remain true to your strengths
Speed is key. Don't wait for opportunities to pass you by.
From your experience, what are the latest trends in fashion? And how do you plan on evolving your brand?
Considering that we are not from a typical fashion background we have a different perspective on trends from others in the industry.
Rather than focusing on temporary trends we follow a different approach. Historically, the industry focuses on the "what" factor. Instead, we believe that consumers are more and more curious about the "why." Why is it that we are wearing this? Why does it make me feel this way? So this is what matters to Joyce & Girls and what connects us to our customer.
Finally, what are some of your upcoming projects?
As we mentioned earlier Joyce & Girls is continually expanding, with several new locations set to open across Europe in S/S 2020. In addition to this we are already working on expanding into the USA, Canada and the Middle East by 2021.
As well as market growth we are now engaging directly with our customers via social media, our blog plus bloggers and influencers. Overall we want to make more noise and have a bigger presence on the ever-evolving fashion scene. You can look out for both web shops and plenty of exciting events.
In order to facilitate the forecasted growth we are looking to invest in a strong team. Earlier this year we appointed Franco Franzini, the former Commercial Director of Pinko, Missoni and Manila Grace. Franco, will not only be instrumental in our market expansion but will also help us optimize the entire sales operation. With our strategy of continuing to hire such caliber and talent we are confident that the future of Joyce & Girls is a bright one.