UNIO
"Men's Designer Scarves By Leila Altamirova"

By SUNA MOYA - 14 MAY 2020
UNIO - Luxurious Scarves Woven By The Master Weavers of France
PRODUCTION
---
Photography By GREG ALEXANDER
Art Director SÉBASTIEN VIENNE
Hair & Makeup CARINE LARCHET for LAROCHE POSAY & EUGENE PERMA
Model CHRISTOPHE - AVA MODELS LONDON
Production MEPHISTOPHELES
---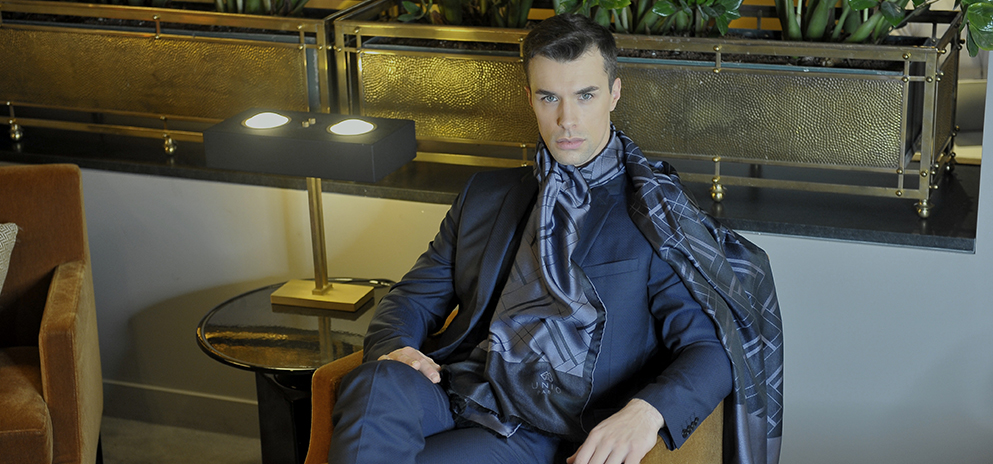 Wrap up and stand out this season with Unio´s exclusive collection of silk scarfs for men. Leila Altamirova, the designer who´s in-depth research at the famous silk archives in Lyon, inspired her to design and develop her stylish and original printed silk scarves.
UNIO scarves are created today in Lyon, which was the final destination along the Silk Road. The production house Leila has selected is one of the most prestigious in France and was founded in 1929.
A mix of heritage and art created for today's modern man.
class="luxury"Influenced by the "roaring twenties" the designer drew inspiration from the Art Nouveau and Art Deco epochs.
Elegant yet understated, UNIO Scarves offer a supreme level of fashion that can complement any look. A scarf that can be worn over a suit or a sweater with jeans.
It is an accessory that gives a very distinct statement of fashion and can add an extra flair of sophistication to a variety of attire. A great way to bring some extra colour into your collection and the perfect element of style, especially when adding the wow factor to any wardrobe
Make a statement and layer your look with a silk neck scarf. UNIO is an all-season must-have addition, offering excellence, superior quality with that luxury French lifestyle.
For more information, go to UNIO website here .
"Luxurious Scarves Woven By The Master Weavers of France"