ROGER FEDERER
"World's Record Holder For The Most Number Of Grand Slams."

BY CYNTHIA LO - 14 SEPTEMBER 2018
TENNIS CHAMPIONSHIPS : The Road to Fed FanDom (The First Man To Win 20 Grand Slam Titles)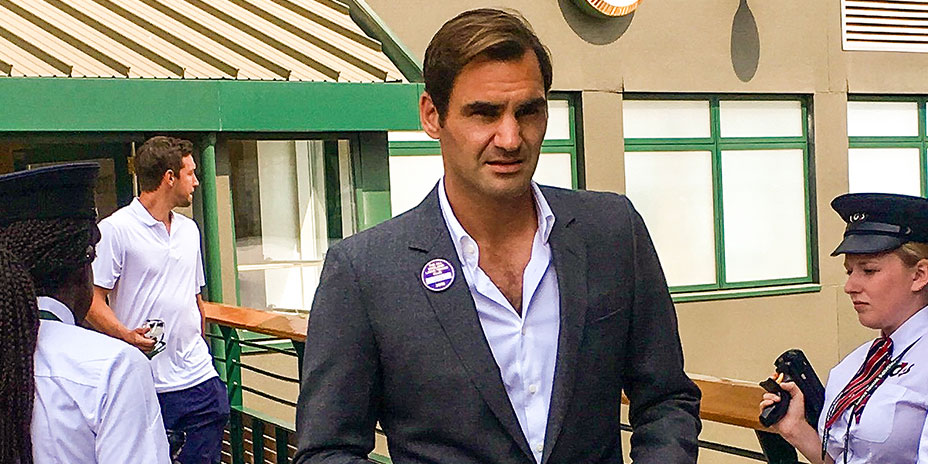 Roger Federer is the World's Record Holder for the most number of Grand Slams in modern time with 20 titles won from four major tennis tournaments - Australian Open, French Open, Wimbledon Open, US Open. Apart from the 8 Wimbledon titles he has 6 Australian Open titles, 5 US Open titles (5 consecutive wins) and 1 French Open title. All these tournaments are played outdoors. the Australian and US Open are played on hard courts whereas Wimbledon on grass courts and the French Open on clay courts.
TENNIS CHAMPIONSHIPS : The Road to Fed FanDom(The First Man To Win 20 Grand Slam Titles)
FOLLOW QCEG MAG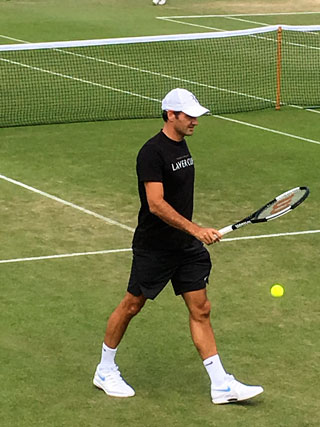 Though not always been a Roger Federer fan, but sure always been a tennis fan to the likes of Björn Borg and Stefan Edberg. I heard of Roger Federer winning slam after slam and even saw the final of the 2007 Wimbledon final where he beat Spain's Rafael Nadal to match Borg's record of 5 consecutive Wimbledon titles. I was even rooting for him NOT to win so as to preserve Borg's record. 
It was two years later when Sweden's Robin Söderling ousted Rafael Nadal in the fourth round of the French Open at Roland Garros in 2009 and subsequently set up a final against Roger Federer that my focus was turned on Roger Federer again. Roger Federer until then had played in three finals and ended up coming short against Rafael Nadal. Would this be his chance now that Nadal was out? But then the guy who took out Nadal, he must be even better than Nadal, one would reason. The public service in Sweden cleared the usual programs just to televise the final. And there I was again rooting for a Swede to to win - would it happen?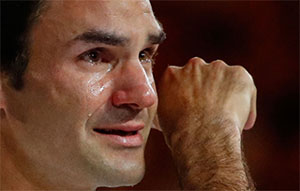 Somehow during the course of the match, my cheers turned 180° toward supporting Roger Federer. Just watching his style of playing so elegantly and then a slight panic when an intruder self-named Jimmy Jump managed to climb onto he court and tried to put a red hat on Roger Federer but failed. Roger Federer subsequently lost that game but went on to win the match and made history by winning all four slams as well as matching American Pete Sampras' record number of grand slam titles. During the trophy ceremony - the only grand slam that plays national anthems - Federer had tears in his eyes when they played the Swiss anthem. And THAT was the ultimate turning point for me into becoming a Fed fan - after looking at how much that victory meant to him.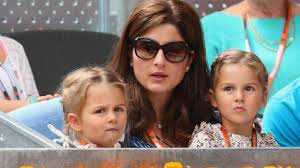 Ever since that day, I've been scouring the internet for old Roger Federer matches on YouTube, interviews, bought books and tried to follow all his "live" matches as much as possible. Roger Federer then went on to overtake Pete Sampras' record of number of slams by winning back-to-back the French Open and Wimbledon 2009. Who could forget Mrs Mirka Federer heavily pregnant and sitting through the final that lasted 4 hours and 17 minutes, Federer won 16–14 in the fifth set. I was quite sure she would give birth right there and then with all the excitement. The Federers' first set of twins (identical girls) Myla Rose and Charlene Riva were born 18 days later.
Next was the time I saw Federer play live on home ground - in Stockholm. In October 2010 Roger Federer decided to compensate the organisers of the 250 tournament by playing for a lower appearance fee because he did not play in an earlier agreed upon appearance due to health issues. Us Fed fans had a tradition (before the forum on the original Rogerfederer.com was disbanded) for handing over a red envelope to Federer prior to every tournament. In the beginning it was only pre-Slam tournament and later on there were fans at EVERY single tournament that could act a courier for the red envelope. I had the Genius banner with me and the red envelope as well and of course Federer being familiar with both came over to me during a packed practice session (yes, they sold tickets for that and it was PACKED!) against his today coach Ivan Ljubicic and took the envelope and signed my cap and took the compulsory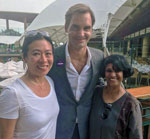 picture. The story of the banner and the red envelope is all documented in Mark Hogdkinson's book "Fedegraphica".
Fast forward to this year's Wimbledon and pre-tournament day (defending champion always opens Wimbledon by playing opening match on Center Court) and lucky me had the great opportunity of "sneaking in" onto the Wimbledon grounds before the general public was allowed in the next day. A very strange feeling seeing only players and their teams with loads and loads of press hunting and awaiting for the big names - just like me and my buddy Sunita. 
QCEG MAG || ROGER FEDERER: SPORTS - ROAD TO FED FANDOM...