HAMASSET FANNYA

"Jewellery Designs By Boutheina Trabelsi"

BY SUNA MOYA - 13 AUGUST 2022
HAMASSET FANNYAN
"Jewellery Designs By Boutheina Trabelsi"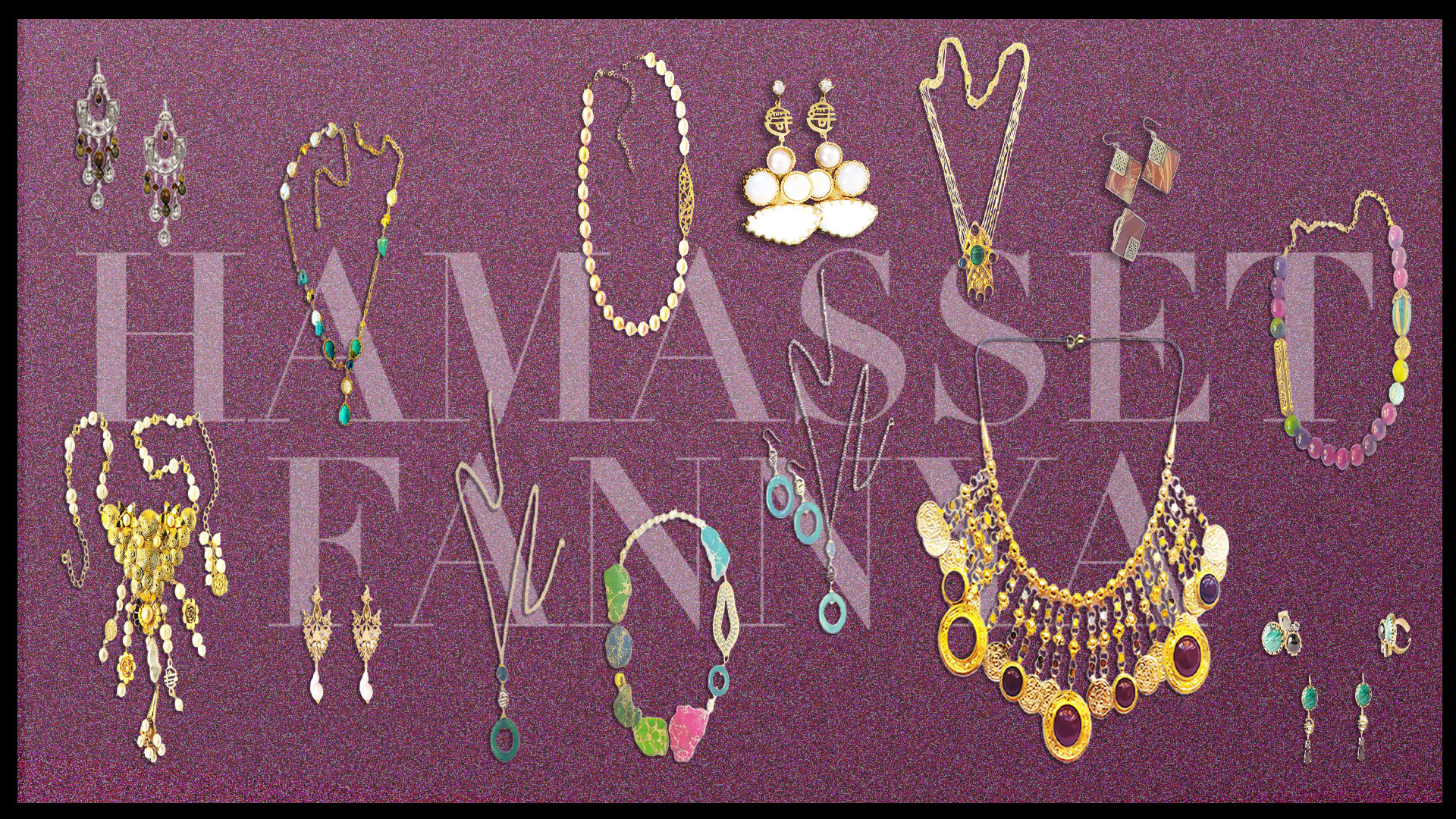 ---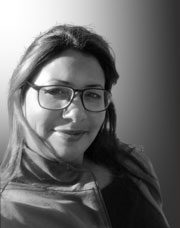 BOUTHEINA TRABELSI
Designer

@hamasset_fannya_jewellery_



---


"Jewellery Designs By Boutheina Trabelsi"


Tunisian Jewellery Designer and Founder of Hamasset Fannya, Boutheina Trabelsi decided to devote her time to her passion and create a Tunisian label honouring women's know-how in the noble jewellery trade.

For Boutheina, it was an unrelenting desire to embark on an artistic experience that she started to research and educate herself on the history of Maghrebian jewellery, the techniques, and the methods of design. In 2010 after two years of studying, she created her first collection.

Each piece of her jewellery design is handcrafted by master artisans in Tunisia. All of the materials she utilizes are sourced with ethical and ecological consideration.

We met up with Boutheina, to learn more about her love for jewellery design and where she finds her inspirations.



P R O D U C T I O N
---
Photography — NAHOKO SPIESS @nahokospiess
Model — ANNA ZANAROLI @anna_zanaroli
Model — VIOLETTE CHARRIER @violxtte
MakeUp — JESSICA PERISE @jessica.perisse
Hair — ERSEL COIFFURE @erselcoiffure
Art Direction & Styling — SUNA MOYA @sunamoya
---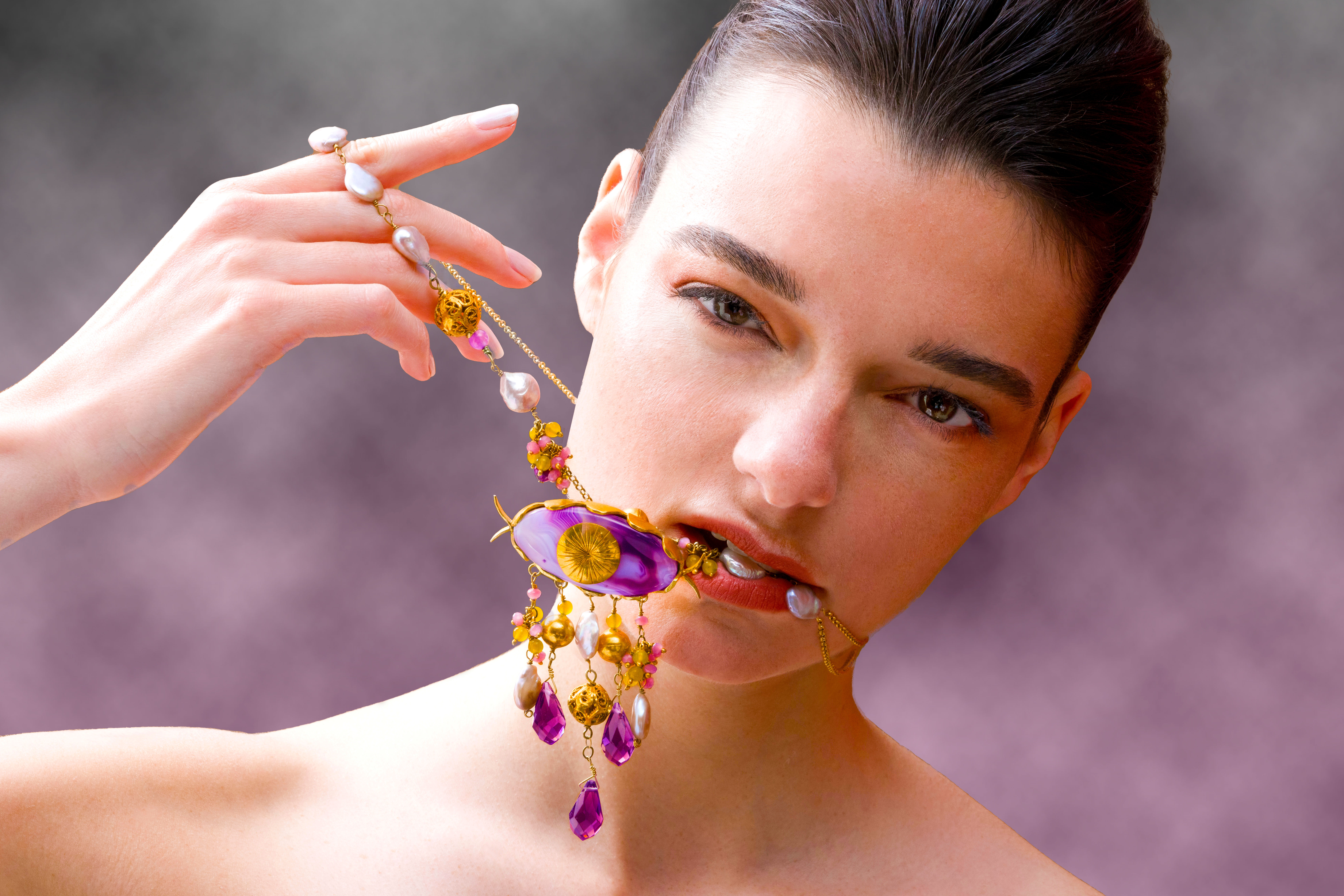 HAMASSET FANNYA
Jewellery Designs By Boutheina Trabelsi


QCEG: "Tell us briefly about yourself?"
Boutheina Trabelsi: "I am the founder of Hamasset Fannya Jewellery since 2010 - a Tunisian jewellery brand . From a very young age, I have been drawn to the fashion and luxury world, hence my interest in jewellery."
QCEG: "What inspired you to create jewellery"
Boutheina Trabelsi: "It was an unceasing need to propel myself into a new experience, to move myself from the daily stress of everyday life. The inspiration I get is also like a therapy that allows me to overcome the unpleasant effects of illness. And now, the increased appetite."
QCEG: "You are an artisan. Can you describe how an idea comes to you and how you select the raw materials to transform them into unique jewellery?"
Boutheina Trabelsi: "I mainly draw inspirations from my origins and culture. That said, most of my creations are unique, I adapt myself to the trends of the year in order to present a chic, beautiful, unique and wearable jewelleries. Sometimes a landscape can inspire me.., even a plant, a stone, or a shape. The world of inspiration is so vast."
QCEG: "Your creations seem luxurious, unique and timeless. Are these the main characteristics that jewelleries should have?"
Boutheina Trabelsi: "I have to admit that the most important criterias for the nomination of a "Bijou" to be credible, in my opinion, is that each completed jewellery piece has to tell a story. Ethnic inspirations inhabits the state of my mind sometimes. It's the brand's artistic touch. Sometimes it can be our goal, depending on the collection. When this is the case, I always like to present creations that are revisited, refined and accessible to any woman who is an artist at heart, regardless of her origins."
QCEG: "What is the most important jewellery making technique you have learned and why?"
Boutheina Trabelsi: "I don't think that one technique is more important than another. A skilled craftman will know how to find the right solutions to get a perfect finish. The most important thing is the idea, the colours chosen, the assembly of all the components to achieve a jewellery piece worthy of our brand's touch."
QCEG: "Why do you only create custom jewellery or one-of-a-kind pieces?"
Boutheina Trabelsi: "Rarity has always attracted me and its gets translated in my brand's human relations with product and services and subsequently the acquisition of a jewellery piece. It provides an added value to the completed jewellery. Besides, I find that jewellery looses its authenticity in large-scale distribution."
QCEG: "What materials do you prefer to use?"
Boutheina Trabelsi: "I have a preference for sober stones because they blend in wonderfully with silver. But of course I acknowledge the different tastes of my dear customers, hence the diversity of our jewellery."
QCEG: "What is your favorite pieces of jewellery that you have ever made and why?"
Boutheina Trabelsi: "Probably my favourite pieces of jewellery is actually my first collection that I presented on the catwalk in 2013. It was a collection that revolved around the famous "Hand of Fatma", "Khomsa" also called "Khamsa" offered under a new perspective adorned with stones. Moreover, this collection is ever-present in celebrations and weddings."
QCEG: "Jewellery can be so personal. How do you customise jewellery for different people?"
Boutheina Trabelsi: "When we have meetings with our precious customers, we want to know their taste, need, personality as well as their budget in order to adapt a model to their requirements."
QCEG: "How do you want women to feel when wearing your jewellery?"
Boutheina Trabelsi: "I like them to feel that it is special for her, and that it is a quality jewellery piece she is wearing and that it makes her feel unique, radiance, womanly all at the same time."
QCEG: " What challenges do you face in your work?"
Boutheina Trabelsi: "It is not easy to preserve product quality in a world where "fakes" are commonly used and found. Hamasset Fannya, as the name indicates, is a brand of jewellery based on values of which we have to do everything to preserve them and continue moving forward. Art is Pure."