SHEER ATTRACTION
"Hair Mists to Elevate Your Presence & That Special Moment"

BY JEAUNESSE
- 21 JUNE 2021
SHEER ATTRACTION
---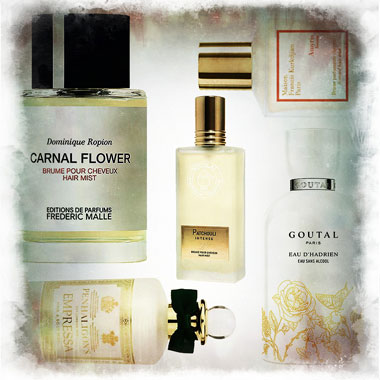 HAIR FRANGRANCES



FREDERIC MALLE
fredericmalle.co.uk
MAISON FRANCIS KURKDJIAN
franciskurkdjian.com
PENHALIGON'S
penhaligons.com
GOUTAL
goutalparis.com
NICOLAÏ
pnicolai.com
---


Beautiful and memorable occasions takes place particularly in June-July where the sun's warmth revives and generate new energies.

Gorgeous smiles and glances around to elevate the summer senses with the oversized straw hat, a pair of lovely sunglasses, exaggerated earrings, a touch of fiery red lips, a red dress with fine tailoring, and a pair of elegant high-heeled shoes or flats.

In another, the elegant suit with matching accessories demonstrating women's self-confidence, independence and temperament reminiscing a quote from the Italian Fashion Designer Giorgio Armani - "Elegance is not to be noticed, but to be remembered."

Ladies, are you afraid of getting older as the days pass? It is only when you are afraid of something that you want to cherish yourselves more.., Time is the best antidote to reconcile with yourselves, whether it is learning to be open-minded and liberal as time goes by, or to reconcile with your own wrinkles like that of falling leaves.

Love is the only thing in this world that can nourish a person's soul. Look at the world gracefully with your beautiful eyes, feel it and sincerely express yourself. Being free, humorous and happy is more charming and unique than the perfect sparkle shot in front of the mobile phone's lens.

Our lifestyles are charging with more and more neutral styles appearing in our wardrobes and jewellery boxes. And also since we don't put on lipstick all the time.., we can choose a bottle of hair fragrance to match our mood and allow the scent to flow with the breeze in the summer.


SHEER ATTRACTION
"Scents To Elevate Your Presence & That Special Moment"
HAIR FRAGRANCES