《SHUAN-YANG-RUO》 - SIMMERING MUTTON IN HOT POT
"While in Beijing, don't miss savouring the delights of Beijing's Traditional Culinary With Your Friends."

By XiaoXiao - 16 SEPTEMBER 2018
Beijing's Traditional Culinary 《Shuan-Yang-Ruo》 Simmering Mutton Hot Pot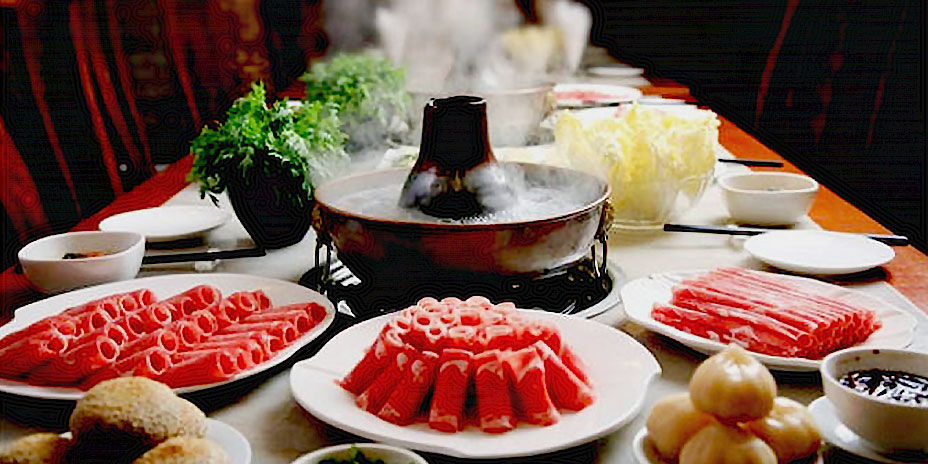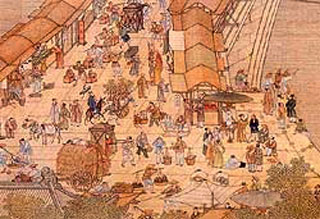 The history of simmering mutton in hot pot (Shuan-Yang-Rou) dates back to the Yuan Dynasty and gain rising popularity in the Qing Dynasty. After the Manchus settled in Beijing, it became an important type of feasting for royal banquets in Qing dynasty. During the Kangxi and Qianlong periods, records indicated over four times dinner banquets were held, each time serving "Shuan-Yang-Rou" to around 3,000 senior people.
During cold wintery periods, people from Beijing's traditonal background consume more mutton & beef and evenmore dinning on "Shang-Yang-Rou" meals. It can be called "Shuan-Yang-Rou", "Shuan-Guo-Zi", "Zhi Guo-Zi". All of these refer to "Mutton". If anyone doesn't reaction to these names, you'll instantaneously know the person whom you are speaking to is not from Beijing's traditional culture background.
BEIJING'S TRADITIONAL CULINARY 'SHUAN-YANG-ROU' - Simmering Mutton In Hot Pot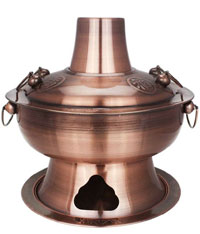 'Shuan-Yang-Rou' uses copper pot for boiling its soup. The best pot is red copper tin as it keeps the soup tasty until you finished eating. Charcoals fire boil the soup continually until you completed your meal.

"Shuan Rou" is simmered mutton in light boiling soup, and it means fiendship as pure as water. The main dish is mutton followed by vegetables. Only two parts of sheep can be prepared for the hot pot and they are named "Shang Nao" and "San Cha". "Shang Nao" is the back part of the neck, close to the head. It is a mixed of fat with mutton meat which looks like marble and tastes very tender. "San Cha" is part of front and back of legs, front is more tender than back of legs. Today, sliced mutton in hot pot restaurant in Beijing are mostly machine sliced and frozen. Traditionally, fresh mutton were sliced piece by piece by hands.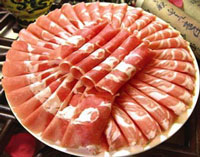 The sliced mutton must be average in fat with muscle and precise thickness per piece. Start with mutton, use chopsticks to pick two or three pieces of mutton and dipped into the light boiling soup a few times until it turn white. The way to eat "Shuan Yang Rou" is don't put everything into the hot pot at one time, select food which you want to eat first. Always start with mutton, this way, you can taste weather the mutton is of good quality or not.

Two pieces white part of leek and three slices ginger, and few pieces of seaweed. The main thing is to eat the meat. Thus, the soup must be light without too many ingredients. Chinese cabbage, glass noodles and bean curd / frozen bean curd for traditional "Shuan Yang Rou" side dish. Today, People have more selection, but almost every table order all of three dishes for basic. Try some vegetables will make you feel good after take mutton. A must-try are sweet garlics served chilled to-refresh in the mouth.

The tasty sauce for the "Shuan Yang Rou" is very important to round up the overall taste. Famous "Shuan Yang Rou" restaurants always have their own secret ingredient to make delicious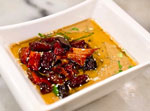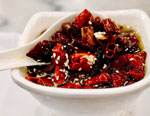 sauce. Main ingredient is sesame paste with fermented bean curd, leeks flower sauce, shrimp sauce. Chop cilantro and leeks, then put with sauce together. also can put fried chili oil for people who like spicy. Normally, People eat sesame bun or noodles after mutton or vegetables, most of people prefer to order sesame buns, sesame crisp,very tasty and special flavor, sesame bun also is standard to know which restaurant is best for "Shuan Yang Rou".

Put mutton in hot water. After mutton turn to white in the pot, dip in sesame sauce.
Recommended Restaurants for Traditional Beijing Hot Pot.
BEI MEN SHUAN ROU (South Luigi Lane) - Di'an men east street 56-1, Dong Cheng District, Beijing.
{ 北门涮肉(南锣鼓巷) - 北京市东城区地安门东大街56-1号的餐厅。}
JU BAO YUAN (MU DAN YUAN) - Garden Hotel, 4 floor, Hai Dian District, Beijing.
{ 聚宝源(牡丹园店) - 北京市海淀区花园饭店4层。}
NAN MEN SHUAN ROU (Dong Dan) - Beijing News Plaza 3 floor, Jian Guo Men Nei Street No.26, Dong Chen's District, Beijing.
{ 南门涮肉(东单店) - 北京市东城区建国门内大街北京新闻大厦3层。}