NEW YORK
"The Other Magical City."

BY MEEKAR - 12 OCTOBER 2018
There are probably two places in the world where people desire to make a home in – New York and Paris.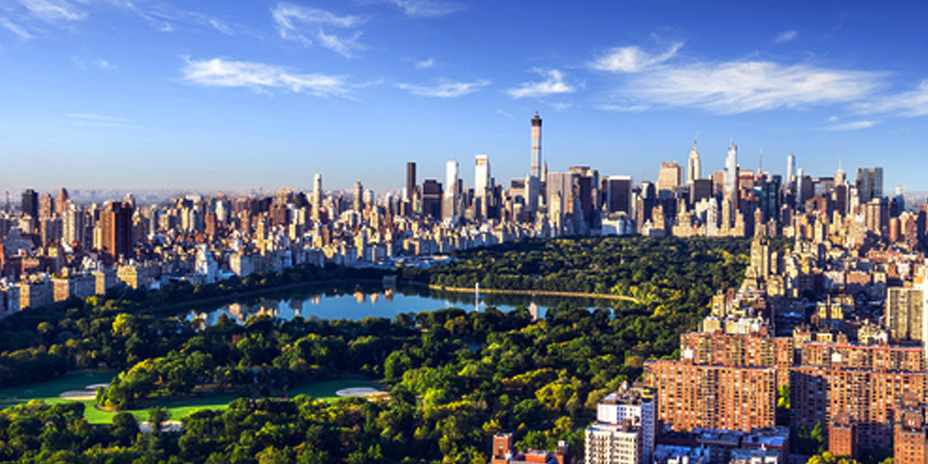 There are roughly three New Yorks. There is, first, the New York of the man or woman who was born here, who takes the city for granted and accepts its size and its turbulence as natural and inevitable. Second, there is the New York of the commuter — the city that is devoured by locusts each day and spat out each night. Third, there is the New York of the person who was born somewhere else and came to New York in quest of something. Of these three trembling cities the greatest is the last--the city of final destination, the city that is a goal. It is this third city that accounts for New York's high-strung disposition, its poetical deportment, its dedication to the arts, and its incomparable achievements. Commuters give the city its tidal restlessness; natives give it solidity and continuity; but the settlers give it passion.

— "Here Is New York" by E B White
There are probably two places in the world where people desire to make a home in – New York and Paris. New York is for the first half, how much ambition you have, and go for it. New York can accept and tolerance. Just as there are a thousand Hamlet in the eyes of a thousand people, there are also a thousand New Yorkers in the eyes of a thousand people.
The skyscrapers create the superiority and reality, busy crowds and traffic the "buzz" and cinemas with LED boards and bars, multiple types of museums and art exhibitions, high-end restaurants with cuisine from around the world and local style street food stalls, flower shops and different wet markets... This is a bustling and pedestrian-friendly city, and you can dating with New York city even if you don't have a lover to hold hands with you.
There are probably two places in the world where people desire to make a home in – New York and Paris

Feel free to buy snacks at the street food, take a "New Yorker" and go to Central Park to sit on the lawn and laze for a while, then start enjoying New York. Many may think you are starting passionately...
Here is New York! Dim Sum in Guangdong in the east, and New York brunch in the west!
Let's start seeing New York from brunch time: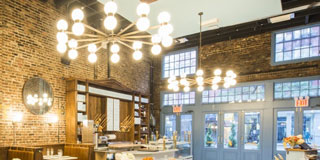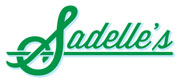 SADELLE'S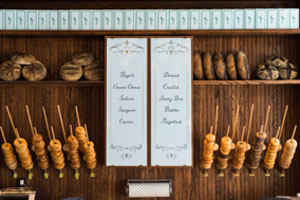 463 West Broadway, New York, NY10012
Sadelle's bagels all made in house, guests can seethe staff wear natty white apothecary coats in bagel station enclosed after you come in, they put bagels on the wooden spindles and informe guests"Bagels, hot bagels" when fresh beagles arrive. Sadelle's located in the heart of SoHo. Many of New York's and foreigners come here for Fresh Bagels and Lox, if you order smoked-fish and bagels, wait staff will put the plates in a tower. Delicious food with elegant decor, who doesn't like it?

The restaurant's decoration style is also mix with literary and elegant, they make bare red brick wall, hanging with modern lights, put european traditional candle on the table and many artworks in the restaurant, It looks classic and modern. When this art-style restaurant is full of candles, it is super romantic!
Opening Hours
BAKERY ↝
Monday-Friday:
8:30AM - 2:30PM
| Saturday:
8:30 AM - 4:00PM
| Sunday:
8:30 AM - 5:00 PM
RESTAURANT ↝
Monday-Wednesday:
8:30AM-2:30PM
| Thusday-Saturday:
8:30AM-8:30PM
| Sunday & Brunch:
8:30AM-5:00PM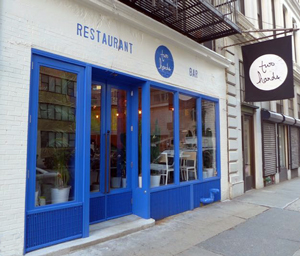 TWO HANDS
164 Mott St, New York, NY 10013

Located in Little Italy, New York, the restaurant's ceiling is decorated with a star-studded light bulbs. Individual art paintings hung on brick walls and making people feel happy and relax. No chef can make dishes that satisfy everyone, but a restaurant with style always have its own signature dishes. Two Hands' signature dishes Acai Bowl and Avocado Toast and they are the best in New York. "Acai Bowl" is considered a healthy food and originated from Hawaii. It is made with Acai (arabinoberry) as the main ingredients. The acai berry has high nutritional values with slimming antioxidant properties. It promotes digestion and improve sleep quality. Avo Toast, imagine a yellow roasted toast with avocado accompanied with the taste of bacon and eggs according to your preference.
Opening Hours
Monday-Sunday:
8:00AM - 5:00PM
ENJOY THE SUNSHINE IN CENTRAL PARK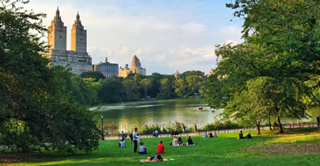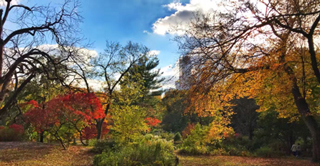 New York's famous urban oasis - Central Park. The park is located in the middle of Manhattan and surrounded with skyscrapers. The park is beautiful all the year round. Its filled with red and green colours in Spring, sunny in summer, the autumn maple is red with white. It's wonderful to enjoy the morning on the lawn, and a feeling of being embraced by the forest!
One of the great pleasures of going to Central Park in the fall is to appreciate the calmness of the autumn lake. The park's landscapes with the fountains, lakes and bridges create a sense of serenity.
SPEND TIME IN MUSUMES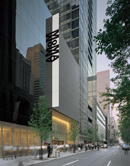 In New York, the musumes are prefect places to spend time. The Metropolitan Museum of Art is one of the four major museums in the world, along with the British Museum in London, the Louvre in Paris, and the Hermitage Museum in Russia. It takes two or three days to complete a tour of The Metropolitan Museum of Art.
Another must visit is MoMA - The Museum of Modern Art is an art museum located in Midtown Manhattan in New York City, on 53rd Street between Fifth and Sixth Avenues. Its houses one of the most outstanding modern art collections in the world. The musume's building shape is worthy of admiration. Upon entering MoMA building to the exhibition and shops, feel the creative atmosphere scattered in the air. In the Design Shop, there are many MoMA's products to explore.
SHOPPING AT FIFTH AVENUE




Fifth Avenue is a major north-south road in Manhattan, New York City - the most famous high-end commercial street. Both sides of the Fifth Avenue are high-rise buildings with shiny glass walls, presenting elegance and and a stylilised picture of modern American life.
Walking down Fifth Avenue is Tiffany & Co Store, the location of the movie "Breakfast at Tiffany's" where Audrey Hepburn went window shopping every morning in the movie, eating bread and dreaming that one day she could enjoy a relaxing breakfast in a noble jewellery store.
ROCKEFELLER CENTRE OR EMPIRE STATE BUILDING
-Overlooking the city at their Observation Decks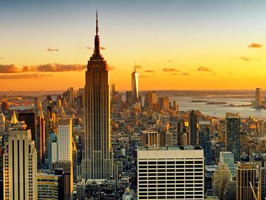 Standing on Top of The Rock in Rockefeller Centre, it occupies the perfect location overlooking Manhattan. Opposite to the Rockefeller Centre is Empire State Building!
Tickets for the Rockefeller Center can be booked in advance (you can also choose to buy CityPass for a small partner who wants to go to most of New York's surface attractions). The queue length may be around 1 hour, so you should consider the queue length when planning!
Experiencing the view of New York from The Empire State Building observation deck is another great choice. But the queue may be longer at here. Movies like "Sleepless in Seattle" have been filmed here. The night view here is superb. The building has two viewing platforms, one located on the 86th level and the other on the 102nd level.
STATUE OF LIBERTY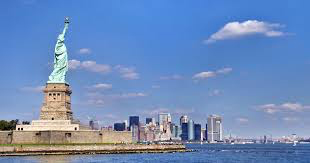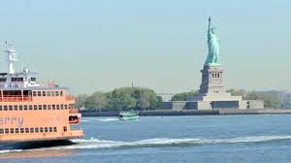 Statue of Liberty is located near the Hudson River Estuary on Liberty Island in the New York Harbour. It was built in 1876 to commemorate the centenary of the victory of the American Revolutionary War by France. The Statue of Liberty was completed in October 28, 1886. Today, marine transportation has advanced considerably in New York and Staten Island Ferry is one of the oldest established lines. This 25-minutes free ferry is a commuter route for both of New Yorkers and tourists to visit the Statue of Liberty.
GORGEOUS NIGHT SCENES AT TIMES SQUARE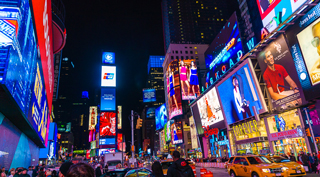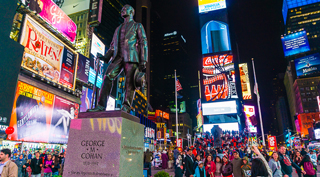 TIMES SQUARE is also called the "crossroads of the world" and is the epitome of urban prosperity. This is where large and small LED and TV billboards reflecting brillantly in the night, penetrating deep into the hearts of the people! You will naturally feel a lot of emotions when you are in there. Nearly 40 shopping malls and theatres are located near Times Square. It is golden entertainment and shopping center and a symbol of New York.
DUMBO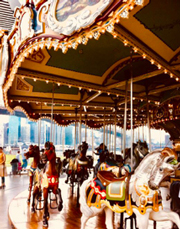 DUMBO - Short for "Down Under the Manhattan Bridge Overpass" is where a number local designers, gallery studios and restuarants are gathered in. It is located mainly in the section between Brooklyn Bridge and Manhattan Bridge that extends to Brooklyn.
BROOKLYN BRIDGE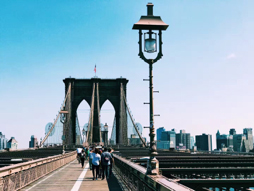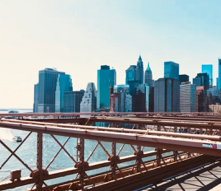 It takes around 30 to 40 minutes walking distance between Brooklyn Bridge to Manhattan. The two towers supporting the steel suspension cable of Brooklyn Bridge are of neo-Gothic style. Walking on the Brooklyn Bridge, you can walk pass almost all of New York landmarks.
How New York's magical influences effects young people is not surprising.
When you are young, try visiting as many different cities to see their most beautiful landscapes and meet some of their nice people. After experiencing their magnificent sights and fascinating people, it would surely lightens the "burdens-of-life" and influence your lifestyle in where you live.
"What matters in life is not what happens to you but what you remember and how you remember it..."
— "One Hundred Years of Solitude " by Gabriel Garcia Marquez
AIRLINE TRAVEL PROMOTION


Beijing To New York

, Premium Special from RMB7,770 +

Flights Departure Period → 04 Oct 2018 to 31 Dec 2018 → 11 Jan 2019 to 31 Jan 2019 → 08 Feb 2019 to 24 Jun 2019
Stay Duration - Up to One Year
Book By - 31 Mar 2019
Flight Class - Premium Economy Class
Trip Type - Round Trip

Flight Operator



HongKong To New York

, all-in-one fare from RMB6,595

Flights Departure Period → 19 Jul 2018 to 31 May 2019
Stay Duration - From 2 Days to One Month
Book By - 31 May 2019
Flight Class - Economy Class
Trip Type - Round Trip

Flight Operator


Guangzhou To New York

, all-in-one fare from RMB5,865

Flights Departure Period → 26 Jul 2018 to 31 May 2019
Stay Duration - Up to Two Months
Book By - 31 Dec 2018
Flight Class - Economy Class
Trip Type - Round Trip

Flight Operator