UNITED KINGDOM
"A White Christmas for United Kingdom within the forecasted four months of snow?"

BY XIAOXIAO - 2 OCTOBER 2018
UNITED KINGDOM - On December 25th, whether its a rainy or snowing day, Christmas will surely still be an Auspicious White Christmas!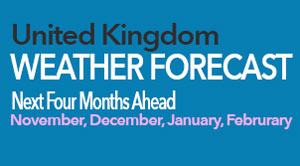 Recently, major media in the UK Weather Forecast reported four months of snowing from November to February next year. Temperature will drop to below zero... It seems unbelievable, but the weather is becoming more abnormal. However, the British are geeting ready to embrace the cold temperature this winter. After all, Britain has ushered in the hottest summer this year in the past decades.

A white Christmas covered with snow has always been what the British wants. The reality is that the frequency of occurrence is extremely low. It will occur four times in about 50 years. Coupled with climate change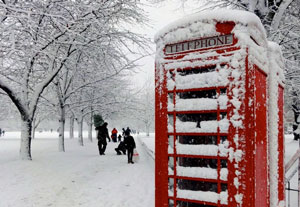 and other factors, a surprise awaits for UK's Christmas celebration. I don't know that this year is so cold. Will winter bring a surprise to the UK to relive the rich Christmas atmosphere. Imagine, in a white world, the whole family or sitting with friends and lovers, sharing food and wine to celebrate, its a wonderful atmosphere, and it will be one of the most beautiful memories of many people! Snow covered Britain is really beautiful. Old people, adults and children are looking forward to waking up in the morning and standing by the window to see the white Christmas Day covered with snow on the street!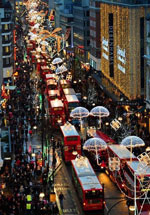 For those who have either studied, worked or lived in the UK before, is there an urge to make you want to go back soon? After spending a lifetime of challenging years in the UK, one realised a lot cannot be learned in books to understand the kind of lifestyle we want to have. It just cannot be described in any words or sentences. Recollecting the good old times in the UK, will you bring your love and new family members back to see the changes, walk where you have been before, sit at a cafe round the corner of the street where you used to live, go shopping for gifts that you cannot afford before and has always desired for. Maybe you will see more new buildings, maybe we change the perspective of looking at things as the years past...
UNITED KINGKOM - On December 25th, whether its a rainy or snowing day, Christmas will surely still be an Auspicious White Christmas!

RECOMENDATION: Iconic Place To Be In London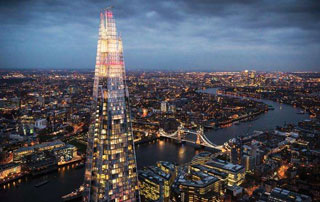 THE SHARD
Next to London Bridge is The Shard or "Star Tower" (Zhai-Xing-Ta in Chinese) as a more romantic name the Chinese gave. This building has a panoramic view overlooking the whole London. This "pyramid" building by Italian architect Reno Piano is made up of 11,000 precison three-dimensional glass and is the latest landmark for London City soaring 309.6 meters towards the sky like a beautiful pure, noble lady standing bright and courageously guarding over the ancient city which has been through enduring times.

The 72-Levels Shard Building accomodates offices, retail archard, restaurants & bars, hotel, residences and the observation deck.
Which hotel is located at the mid-levels of THE SHARD?
London's Shangri-La Hotel ocupying the 34 to 52 Level. Enter the building from St. Thomas Street and take elevator to the hotel lobby at 35 Level. Asian Jasmine scents welcomes guests as the elevator opens.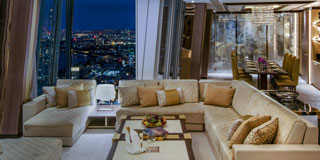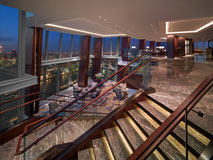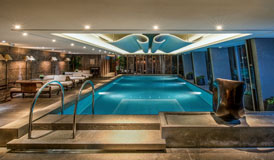 In the public area, You can enjoy of some art works from Asia and UK. London Shangri-La Hotel have some special elements in the Shard. It is the attractions of Skyline City View, Delicious Food and Services.

Let's begin with Skyline City View. A total have 202 rooms in London Shangri-La Hotel at the Shard, including five type of designer rooms and six types of designer suits.
The suits offers 60 - 232 sqm of luxury, suits with en-suit bathroom and dressing room, separate living room with dining area, office space, guest washroom and kitchenette. The feature suit is Shangri-La Suit.
Book a Shangri-La Suits. Its one of the largest luxury style suits in London. It comes with a private elevator for Shangri-La Suit. It has floor to ceiling windows overlooking to the skyline, Parliament, Westminster Church, Big Ben, London Eye, The City of London, Canary Wharf and so on.
Two bedrooms with a total living space of 232 square meters. Take a look around London in the day and come back to Shangri-La, at the Shard to rest and relax. Marble-clad bathroom features heated floors, jacuzzi bath, plush bathrobes, flat-screen television, a separate, glass-enclosed shower, and a washlet toilet. Choice Acqua di Parma amenities which are made in Italy. These details showcases The quality that has always been pursued with a service philosophy: "Make Guests Overjoyed" by Shangri-La Hotel. There are also other choices such as Jo Malone, Miller Harris and Ormonde Jayne.
Shangri-La Group is one of the largest soft drinks and food supplier. It is recommended to try the delicious food at Shangri-La Hotel. You will not be let down. Guest can start by having breakfast at the TING Lounge located on level 35 with pleasant London views and subtly glamorous atmosphere. Come back here for the "highest" afternoon tea in London. Please make an appointment if you want to have window seats. The Hotel serves two different types of afternoon tea: classic English afternoon tea or Asia afternoon tea. Its is recommended to try both afternoon teas. Guests can order more for their afternoon tea with friends.
Ting Restaurant features an elegant of chinoiserie design and presents a modern British menu with subtle Asian influences. And it overlooks the River Thames, Tower Bridge, Maritime Greenwich, Canary Wharf and the historic counties of Kent, Surrey and Sussex.
GONG, on Level 52 is the prefect place for cocktails and late-night drinks. Have a drink and watch over London's skyline in the late-night. It's amazing!
A fully equipped 24-hours gym and infinity skypool is located on level 52 with floor-to-ceiling windows providing panoramic views over London skyline. The skypool offers an exclusive escape for hotel guests, who may also indulge in relaxing spa treatments, either in the comfort of their room or in one of the spa residences. Great place to excecise and to keep fit after a trip.
The Unique venue on level 34 can host bespoke wedding, civil ceremonies and receptions for 20 to 110 guests. Prefect setting for your wedding celebration with spectacular views, tailor-made menus and an experienced professional and friendly staff to ttend to evry needs. All of these for an everlasting perfect wedding day memories. Stand between level 34 to level 35 to experience exquisite views over London. It provides an ideal backdrop for your wedding photography's.