THE FEZ ATTRACTION THAT TAKES YOUR BREATH AWAY
"The Ancient Capital Of Morocco"

BY SUNA MOYA - 24 MAY 2022
THE FEZ ATTRACTION THAT TAKES YOUR BREATH AWAY
"The Ancient Capital Of Morocco"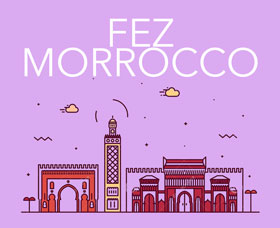 Why not visit Fez, the ancient capital of Morocco and step back in time to experience the sensory delight of this city with the best-preserved Medina in the Arab world with culture, history and mystery awaiting at every corner - just ready for you to discover your own authentic experience!

Famous for its ancient fortified city, the Fes el Bali, on entering the Medina you will most probably get lost but have no fear - take in the charm of the colourful streets, bazaars, spectacular courtyards and luxury Riads. The winding alleyways will take you home.

Dating back to the 9th Century, the Medina in Fes gives you the experience and a taste of what ancient Morocco has to offer. A city where donkeys and hand-drawn charrettes are still the only means of transport within one of the last few urban environments without cars and with an architecture dating from the city's foundation in the late 8th century up to modern times.

Looking around, you will notice that the houses have no windows overlooking the streets, looking like small forts where the only source of fresh air and light is the roof. These Moroccan Riads - a house with an inner garden with a fountain- were once the homes of wealthy merchants or nobles. Nowadays, many hotels and guest houses in such buildings are proud to be called "Riad".

This traditional architectural style developed during the Islamic period and was part of a wider culture often referred to as "Moorish" architecture. This unique style, blending pre-Islamic Spain (Roman, Byzantine, and Visigoth) and contemporary Islamic Middle East styles elaborated over centuries into recognisable features such as the "Moorish" arch, Riad gardens, hypostyle mosques with square-shafted minarets including a mix of elaborate geometric, arabesque and calligraphy motifs in wood, stucco, and tilework.

It's all here to be discovered. We are privileged to experience the heady atmosphere of this wonderful city and to have the opportunity to shoot our QCEG fashion editorial at three of the most beautiful Riad hotels and palaces.

FEZ - MOROCCO
"The Ancient Capital Of Morocco"