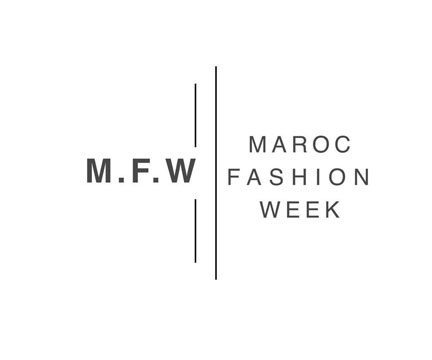 SALMA LAZRAK
2023 Maroc Fashion Week
10 MAY 2023

---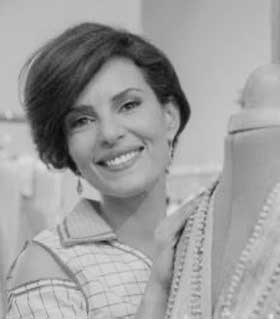 SALMA LAZRAK
Designer

salmalazrakofficiel
salmalazrak.com



---



During the Maroc Fashion Week, we had the pleasure of interviewing a determined and gifted fashion designer - Salma Lazrak from Morocco who specialises in creating exquisite caftans. This designer, with a clear goal in mind, has taken the world by storm with her passion for fashion. Salma's small, limited-edition collections and exceptional made-to-measure pieces are truly extraordinary, and her majestic and empowering collection is a testament to her talent.

Salma's creations are made with the finest and most luxurious materials such as silk, organza, crepe, satin, and johara amongst others. Her silhouettes are delicately embroidered using a combination of ancestral and modern techniques, resulting in geometric architecture that is both stunning and unique. Her designs exude confidence and beauty, making her clients feel truly special.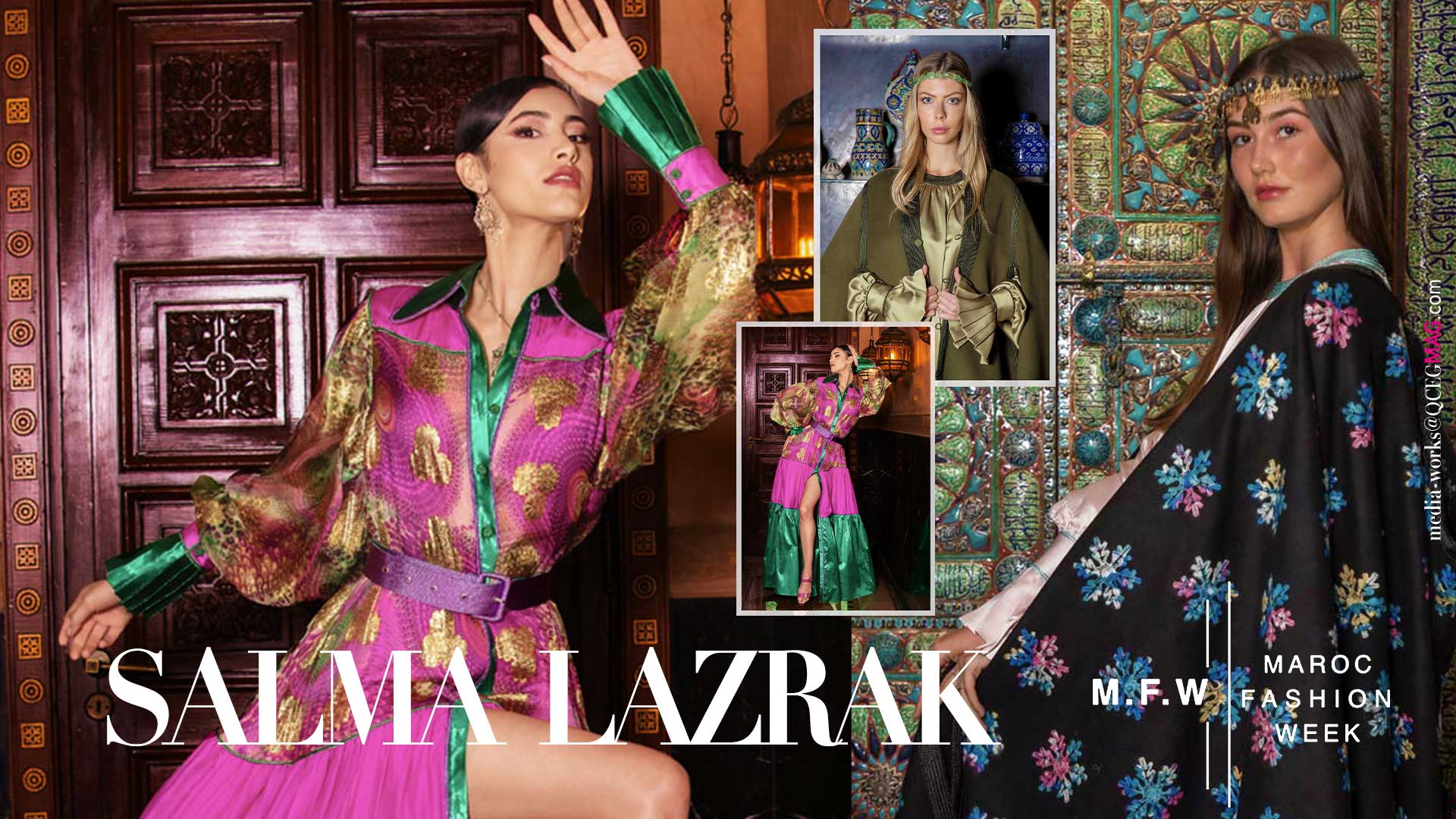 I n t e r v i e w


QCEG
From working in finance to becoming one of Morocco's renowned fashion designers, how did it happen?

SALMA LAZRAK
Like many young girls, the choice of major studies and the beginning of adult life are often influenced by those around them. So I wisely followed the recommendations of my family until the end of my pregnancy. Then, as a mother, I changed. I needed to assert myself by reconnecting with my dreams and my true aspirations. I had always wanted to be a stylist and I was going to do everything I could to achieve that dream. I went back to school to study fashion design. Since then, I don't work in finance anymore. I now live and breathe my passion every day and this is for me, the best way to make a living.


QCEG
How has your heritage and culture influenced your approach and aesthetic in your creations?

SALMA LAZRAK
I am originally from Fez, the cradle of much of Moroccan art and craft. My two grandmothers, my mother, have always been in the world of sewing and embroidery. It is in this rich and stimulating environment that I grew up in. Morocco is a country where traditions are part of our daily life. However, this does not prevent creativity. This is what characterises my creations; the intrinsic heritage of the past submitted to the filter of a vision of the aestheticism of the modern woman.


QCEG
How would you describe your fashion style and your creations?

SALMA LAZRAK
As I said in the previous question, I am made of what I have been given as an inheritance, what my life experience has taught me, and the whole thing is made of dreams to realize. So, what is my style? A duality and dreams are assumed.


QCEG
Do you prefer modern caftans, classic caftans, or a mixture of both?

SALMA LAZRAK
I prefer the caftan that each woman wears. It is the woman who gives these characteristics to the caftan. The same caftan could be classic on one woman and modern on another.


QCEG
We noticed that your fabrics are very luxurious, and quality and aesthetics are extremely important to you. How do you source your materials?

SALMA LAZRAK
Imagine three magical threads: time, simplicity, and love. Weave them together and you get a luxury material. How do you get them? It takes a lot of respect for time, and a lot of humility for simplicity and love. It is a gift from God, an inexhaustible source. Excellence is not the easiest path but it is the most beautiful. When you work with passion to achieve excellence, any product will be a luxury.


QCEG
We noticed that your fabrics are very luxurious, and quality and aesthetics are extremely important to you. How do you source your materials. What materials, fabrics, and colours did you use for the Maroc Fashion Week 2023 collection?

SALMA LAZRAK
I am always looking for pure, rare, exceptional materials and I always end up finding them. Silks, silk brocades, silk devoured, Calais lace, silk satins, Georgette crepes, muslins, etc... Aren't the names of these fabrics enough? That's why I chose them for La Maroc fashion week, they are beautiful, sensual, fluid, and living materials. The colours are for my emotions. The colours of this spring naturally give a little more soul to the fabrics; they are cheerful, bright, and luminous. The couple of "fabric-colour" must make me want to sing and dance.


QCEG
Can you give us some information about your embroidery and the know-how involved?

SALMA LAZRAK
In Morocco, the know-how is a memory that has been passed down for a few hundred years. By way of transmission, oral and manual, from masters to apprentices, this memory is as strong today as it was yesterday and surely it will be tomorrow, intact. It is a chance and an extraordinary talent of Morocco craftsmen, to have preserved this ancestral treasure. For my 2023 collection, you will see essentially three kinds of embroidery.








The embroidery of Maalem is done by men ... A work of textile goldsmithing that consists of embroidering in very fine stitches of silk or gold.

The embroidery of Rabat is made by women. These embroideries without a back often represent geometrical and architectural forms.

And then there is the embroidery of Fez, the "mrama". The finesse of its execution is matched only by the intellectual and artistic finesse of its native city.


QCEG
What changes have you noticed in caftan trends in recent years?

SALMA LAZRAK
There is mostly continuity in the kaftan. Moroccan women are very attached to their culture and traditions. If there is a slight change, it is the abandonment of the non-artisanal kaftan with a return to the noble ways of making kaftans both in terms of work and choice of fabrics.


QCEG
Who is the woman of Salma Lazrak? What type of person is your customer and what is she looking for?

SALMA LAZRAK
I am, above all, a mother! because I do not forget that it is thanks to my daughters or for my daughters that I have reconnected with my childhood dreams. If I had to leave them only one sentence as a legacy, it would be "Follow your dreams, they know the way". Of course, I am also a woman entrepreneur with all that this implies in terms of rigour and contact, sometimes a little rough, with reality. And yet, my employees sometimes call me "El Oualida" because I want to take care of everyone! (Laughs) My type of clientele? Women! All women! I dress a body and a soul. It's unique every time. What woman doesn't want to be and isn't unique?


QCEG
How can a woman choose the perfect caftan for herself?

SALMA LAZRAK
She just comes to me!


QCEG
What do people need to know when looking for a wedding dress?

SALMA LAZRAK
A bride should look great and not be disguised. It's a multitude of details, all equally important for the magic of the "D" day to work in the dazzle of this unique dress.


QCEG
What type of person is your client and what are they looking for? Where can people buy your caftans?

SALMA LAZRAK
All those who love the beauty, original in its simplicity, the unique. Today women want to be listened to. And they are right. An outfit is a reflection of oneself, it requires a space of attention, softness, and respect so that the person can express her desires. They will be able to find all my creativity and my creations in my showroom (Salma Lazrak Showroom, 238 Main Street, Sidi Ghanem, Marrakech).


QCEG
Finally, what can we expect from Salma Lazrak in the future?

SALMA LAZRAK
I know where I come from, I know where I am. My dreams guide my steps toward the future. I want to continue to follow this Ariadne's thread made of the dreams of my clients' princesses, woven with my own hands. We have many beautiful days ahead of us.






"Thank you..., it was a pleasure to discover your universe!"




SALMA LAZRAK
2023 MOR0C FASHION WEEK COLLECTION


- MODELS -