A REVERIE IN THE MAKING WITH ERIC TIBUSCH

"Where A Fashion Story Begins, And Where Fantasy Turns Into Reality"

BY SUNA MOYA - 30 AUGUST 2022
A REVERIE IN THE MAKING WITH ERIC TIBUSCH
"Where A Fashion Story Begins, And Fantasy Turns Into Reality"
---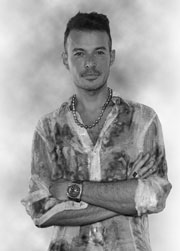 ERIC TIBUSCH
Designer

erictibusch
tibusch.com


---



When we step into the parlour of the venue for our production with designer Eric Tibusch, we encounter elegant bewitching beauty that entices one into a surreal universe.

Eric Tibusch is known for his dramatic silhouettes and his elegant gowns. His collection feature silhouettes in structured sultry satin, which magically create stunning iconic contoured mermaid figures. Perfection all around is found in the stunning details of his embroidery and hand-beaded crystals. Stylish and innovative fashion does not just change over time. Around the world, fashion is influenced by cultures and traditions as well as the popular contemporary trends. We are experiencing an engaging time with fashion moments empowering women to update their style.

Eric Tibusch has spent over ten years in China. And upon his return to Paris, he prepares to launch a new collection. We had the opportunity to reveal part of his Women Collection 2022 during a fashion shoot for QCEG MAG at the Hotel Bourg Tibourg. The hotel is considered a little jewel in the heart of Paris with its oriental Baroque décor, intimate private courtyard, and little garden that's a hidden but recovered paradise.

Hotel Bourg Tibourg has recently been refurbished with its stylish interiors and stands to be the perfect setting for this editorial as a selection of the original and unique silhouettes of the designer blend perfectly with the magical ambience of the hotel. We encounter the glitzy and glamorous fashion world in a situation between at-home loungewear and full-on mode. The designer's sleek and sexy collection with "chic" artisanal detailing accompanied by gorgeous accessories and headwear will remind you of the joy of dressing up.

Eric Tibusch brings us a style in bold dressing with his classic fashion pieces that go way beyond trends mesmerising a fashion story between today and tomorrow. Distinctive elements such as fabric, appliques, embellishments, necklines, and hemlines elevate his dresses to the next level making his pieces one-of-a-kind in all senses.




A REVERIE IN THE MAKING WITH ERIC TIBUSCH
"Where A Fashion Story Begins, And Where Fantasy Turns Into Reality."

P R O D U C T I O N
---

Location — HOTEL BOURG TIBOURG @hotelbourgtibourgparis
Photography & Post Production — Nahoko Spiess @nahokospiess
Videography — MAÏSSANE FRITZ @maissane_fritz
Music — KØPA @kopa.music
Model — ANNA ZANAROLI @anna_zanaroli
Model — VIOLETTE CHARRIER @violxtte
Make-Up — JESSICA PERISSE @jessica.perisse
Hair — ERSEL COIFFURE @erselcoiffure
Art Direction & Styling — SUNA MOYA @sunamoya

---