SOLOMEO
"Philosophy & Fundamental Attributions of Brunello Cucinelli: Flourishing Ahead."

By XiaoXiao - 6 MAY 2019
SOLOMEO - Solomeo is a frazione of the commune of Corciano surrounded with beautiful landscape in the Province of Perugia at the Umbria region where its location in the central part of Italy until today retains significant medieval pastoralism.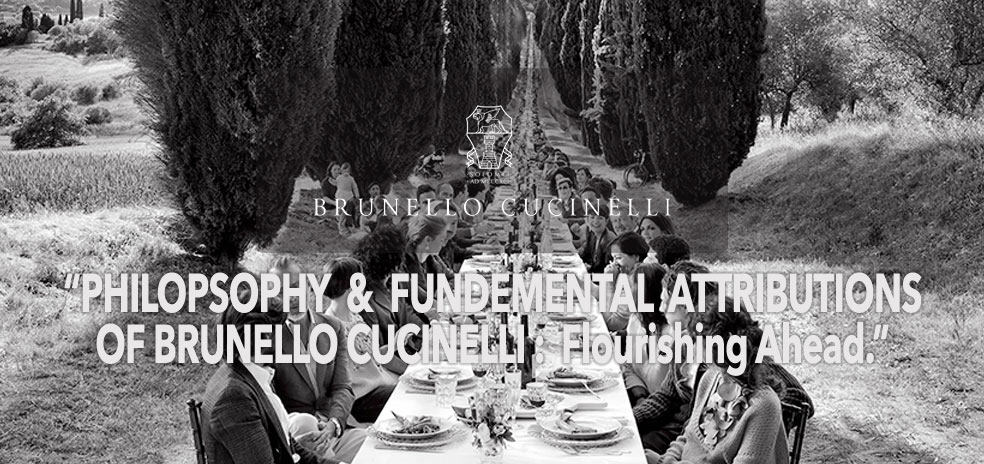 "History is the witness that testifies to the passing of time;
it illumines reality, vitalises memory,
provides guidance in daily life and brings us tidings of antiquities."
― Marcus Tullius Cicero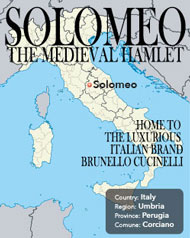 SOLOMEO - Solomeo is a frazione of the commune of Corciano with beautiful landscape in the Province of Perugia where its location in the central part of Italy until today retains significant medieval pastoralism. Boundless golden wheat fields, verdant green olive trees, sunny bright sunflowers and labyrinths of vineyards, does any of these natural landscape makes you want to visit Solomeo especially for those yearning for a refreshing break from living in the bustling modern cities?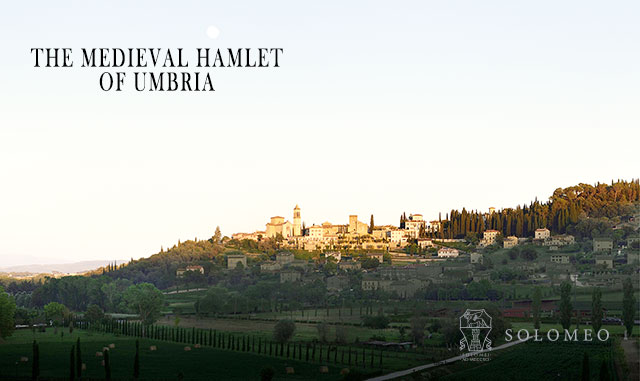 With abundance of rustic beauty and natural landscape dating back to the medieval twelfth century period, one can stroll peacefully on stone roads leading to local churches, monuments, wineries and theatres that are filled with aura of spiritualism and its inhabitant's influences from the past and present.
SOLOMEO Solomeo is a frazione of the commune of Corciano surrounded with beautiful landscape in the Province of Perugia at the Umbria region where its location in the central part of Italy until today retains significant medieval pastoralism.
"To be ignorant of what occurred before
you were born is to remain always a child.
For what is the worth of human life, unless it is woven
into the life of our ancestors by the records of history?"
― Marcus Tullius Cicero

Brunello Cucinelli is the founder & CEO of BRUNELLO CUCINELLI. In 1987, he located his corporate headquarters to a 14th-century castle situated in the Umbrian hill town of Solomeo after restoring it. When Brunello Cucinelli bought this derelict medieval castle in 1985, and the parcels of land one by one, he knew very well how to cherish everything. He also know how to repair and maintain every inch of history symbolic to Solomeo with a sincere and awe-inspiring heart because all of these are part of the land's history. He thinks and implements beyond: how to keep this heritage for the children and grandchildren belonging to this land. With gratitude & respect for the beautiful land, he focus on spreading and translating into practice, the ideals that have fed the humanistic goal of Solomeo. In 2010, he established the Brunello & Federica Cucinelli Foundation. Following the harmonious symbiosis and its original concept belonging to this central part of Italy, the foundation started developing and repairing the medieval hamlet step by step, gradually expanding to its periphery.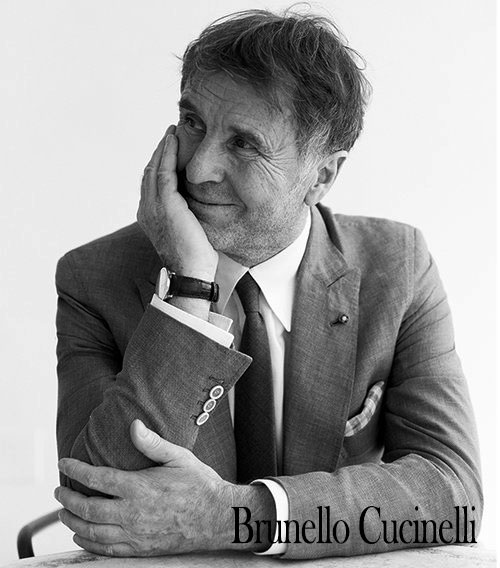 Solomeo is where Brunello Cucinelli dedicated himself to the making of quality cashmere and silk with a view on eternal beauty, craftsmanship and humanity from the very start.
class="luxury" China's Inner Mongolia and Mongolia's goats produce the best cashmere and hailed as "soft gold" in present times around the world. Going way back into history between China and Italy, ancestors from this region, relying on strong will-power and God's care, has been travelling to far away lands, and eventually after four years arrived in China's Inner Mongolia.
About time...It is a relevance history from the deep past to the eternal future as today, Brunello Cucinelli travels to Inner Mongolia and Mongolia every year to select the finest cashmere, which is then transported to the craft workshop to be worked on by the hands of traditional italian crafts masters to create quality cashmere clothing.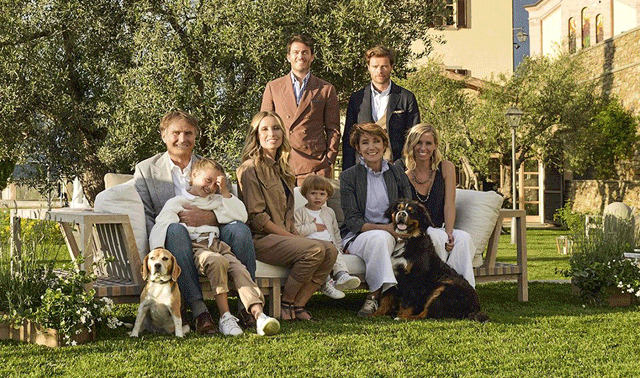 The BRUNELLO CUCINELLI Brand offers men & women clothings, shoes and leather goods for different seasons including homewears. He is inclined to let the customers feel the wholesome quality of the products he offers for his brand design and tailoring that reveal simple and elegant temperament. From the brand's establishment to the present, Brunello Cucinelli never rely on exaggerated designs nor eye-catching logos to elevate his eponymous luxury brand. But when buyers see and feel the entailments especially inside his taylored clothing, they can acknowledge the fine quality markings in his brand.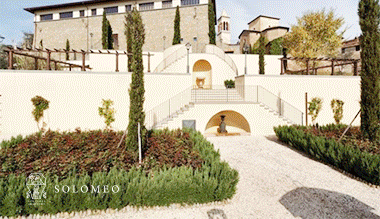 "In all things of nature there is something of the marvelous."
― Aristotle
Solomeo is a place filled with lively nature and classical beauty everywhere. After decades of hard work, Brunello Cucinelli has restored and expanded Solomeo's inherent agriculture like olive oil, cereals, and wine. There are orchards with trees of apricot, peach, and plum, neatly rowed vineyard, all filled with the longings of nature balancing the relationship between humans and nature. They use traditional production processes and eco-friendly systems to upkeep the natural environment.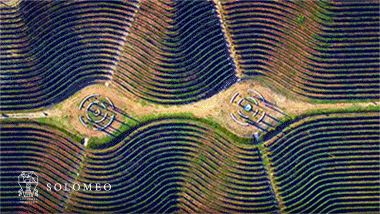 "The value of life is not measured by time, but by depth."
― Leo Tolstoy
Brunello Cucinello's visionary pragmatism and over 25 years of perpetual restoration and growth to-date for a desirable future to the land he loves.
In Brunello Cucinelli's realm and his sustainable eco-social development on Solomeo, young people learn knowledge, insight, skills and living environment they have experienced that will enable them to think and choose with faith and spiritual freedom. Thus, they can go anywhere they want with courage and confidence. And even after experiencing different cultures, history, humanities and lifestlye, the young generation will still choose to return to their hometown to build a life with greater love for their land. At the same time, they would have learned to accept each other's differences and with respect for each other.
TRIBVTO ALLA DIGNITA ' DELL ' VOMO
Located on a hill opposite the medieval hamlet of Solomeo, The monument with its incription 《TRIBVTO ALLA DIGNITA ' DELL ' VOMO》 - in English "TRIBUTE TO HUMAN DIGNNITY" is solemnly engraved in bold bronze letters on top of the monumental arcade with its five arches representing five continents of the world - namely, America, Europe, Africa, Asia, and Oceana. The monument is built with travertine exedra basing on ancient architectural techniques of Vitruvius, Andrea Palladio and Sebastiano Serlio.
TEATRO CUCINELLI
THE CUCINELLI THEATER in English, this theater is inspired by the classical art style from the Italian Renaissance Period throughout its interior design to exterior construction and overall materials used. The theatre stands at the centre of the Forum of the Arts with an amphitheater and the Aurelian Neohumanistic Academy which reflects the Garden of Philosophers and is dedicated to meditation and natural contemplation.
VINEYARD AND CELLAR
Located in Agrarian Park of Solomeo, the statue of Bacchus stands at the entrance of the cellar as a symbol of good relationship between human respect for the pure beauty nature. A variety of Umbria grapes are grown here following ancient know-how for its cultivation.
PIAZZA DELLA PACE (SQUARE OF PEACE)
The circular Square of Peace is set in the medieval hamlet of Solomeo with olive trees in the backdrop symbolizing love and peace. This square has been used as a venue for concerts and other artistic performances. Whenever the summer night comes, the magic of music and art interpreting the classics and modernity with borderless exchanges of artists and people's resonance with art coming alive under the gentle night sky of Solomeo with illuminating stars above.
SCUOLA DI ARTI E MESTIERI (SCHOOL OF ARTS AND CRAFTS)
Knowledge comes from the reading and understanding of great minds. More important than absorbing knowledge is to organised knowledge into logical beliefs and perception, than transform them into more useful insights than knowledge. "How can you really have executive power If you do not practice these concepts after you have?" asked Brunello Cucinelli
The School of Art and Crafts in Solomeo provides four courses: in Tailoring, Art of Knitwear and Textile, Agriculture, and Masonry.
This school was established by Brunello Cucinelli for the revival of handicrafts for young people to once again gain in the spirit of artisan craftsmanship drawing inspiration from the great visionaries John Ruskin and William Morris with their Arts and Crafts movement. It was founded with the forward-thinking goal of reviving the respect and glory of Italy ancient crafts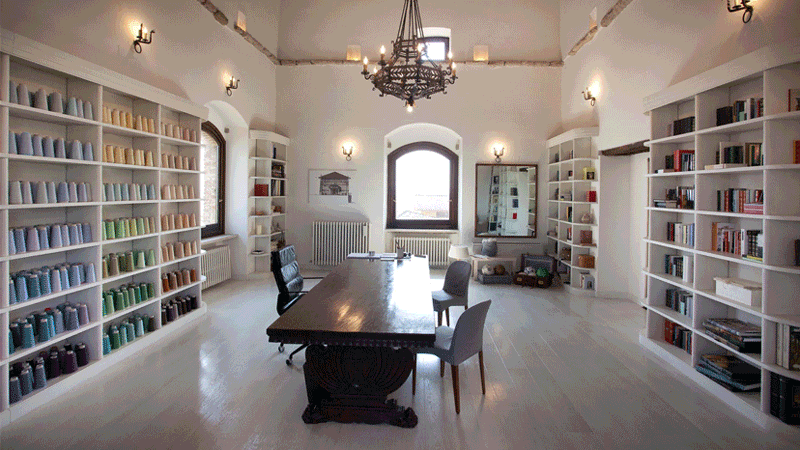 When Brunello Cucinelli bought the place for his manufacturing plant, it was a clothing factory without windows. He considered the working environment of the workers and installed large floor-to-ceiling windows during the renovation of the factory so that the sun could enter the work space. Additionally, he built a large rectangular fountain in front of the factory, surrounded by grass and green trees so that the staff can also enjoy the outside landscape.
Brunello Cucinelli does not use any modern day personel monitoring system. All employees happily go to work at 8:00 am in the morning. They have 90-minute break at 1:00 pm, and get off work on time at 5:30 pm. Work related emails after working hours are not permitted.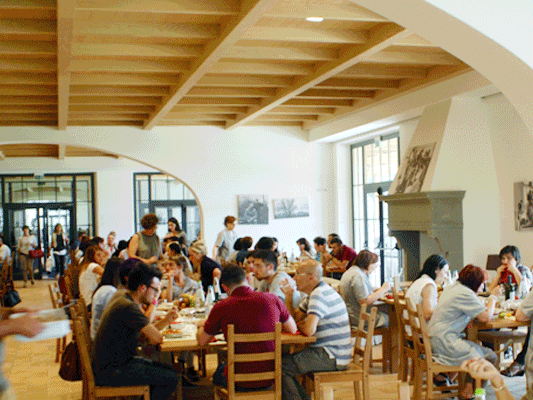 At 1:00 pm, most of the staff and young apprentices dine in the company's restaurant. The restaurant's food are made from locally grown produces like vegetables, olive oil, etc., and red wine is also available. After lunchtime meal, employees and young apprentices can choose to read from the collection of books in the library located in the Aurelian Neohumanistic Academy which contains classic and modern books in different languages on art, literature, history, spirituality and philosophy.
Since 1978, Brunello Cucinelli has been committed to making the company grow steadily with elegance. Many third generation people from Solomeo work in Brunello Cucinelli. He speaks kindly to everyone he meets. His employees get much higher than the average salary paid in the manufacturing industry in Italy, but the company's operating profit is lower than the industry average. He said: "If you know that the manufacturer has earned an incredibly high profit, will you still buy their product..?" The company has to make profits, but I want to try to do it with the ethics of human dignity. The great dream of my life has always been to work for the moral and economic dignity of humankind.


In regard to information technology, Brunello Cucinelli has this to say: "I'm confident and thanks to today's advances in technology, we can easily imagine a world where it is possible to work in small villages, even in the United States."