CHARLOTTE MASSIP

"Charlotte Massip's Art Evokes Emotions While Telling Stories Creating Dreamlike Scenes That Explore the Subconscious Mind!"

BY SUNA MOYA -
CHARLOTTE MASSIP
"Charlotte Massip's Art Evokes Emotions While Telling Stories Creating Dreamlike Scenes That Explore the Subconscious Mind!"


---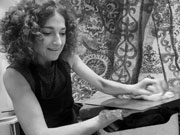 ARTIST
@charlottemassip
charlottemassip.com/


---
Croq' Café
Charlotte Massip



We were delighted to visit the French artist - Charlotte Massip in her atelier and to discover her marvellous universe. The artist's house and studio were designed and built by her father, renowned French architect and artist - Jean-Michel Massip, who has designed numerous public buildings, private residences, and urban projects throughout France and abroad.

We quickly start to understand where Charlotte has inherited her talent. This incredible location seemed to fit the mood of the artist precisely. Charlotte is one of those very active and extravagant characters with a huge smile and shiny eyes as she introduces and guides us with a tour of this amazing house which is an art in itself. From every angle we look, we are in a total environment of innovation, art and creative expression.

We learn that Charlotte Massip has been creating art pieces since she was 15 years old and following her father's footsteps in pursuing an art career. She has experimented with many different techniques while developing her original style. Her artworks are captivating, often featuring themes of humanity and nature with abstracted figures or landscapes and exploring the relationship between the body and its environment. We often see elements of her father's work. She often uses traditional etching techniques to create her artworks.

Her etching skeleton prints can be incredibly detailed and intricate due to the precision of the etching process. Her skeleton prints can also be used to create hauntingly beautiful images that endeavour to capture both life and death. The works of Charlotte often feature distorted, fragmented, female figures that challenge traditional notions of beauty and femininity with bold, colourful paintings that often feature figures and landscapes in exaggerated perspectives. Charlotte also experiments with various techniques such as collage and photomontage. She uses colours and bold shapes to create abstract compositions that evoke emotion and provoke thought.

Charlotte Massip's art evokes emotions while telling stories creating dreamlike scenes that explore the subconscious mind. Her artworks are incredible and fascinating. I had a feeling that I had stepped into the world of Alice in wonderland!!!

So arrived the time to interview this amazing artist who has exhibited her work internationally with solo exhibitions at the Musée d'Art Moderne de la Ville de Paris and the Centre Georges Pompidou. The artworks of Charlotte have also been featured in group exhibitions at the Museum of Modern Art in New York, the Tate Modern in London, and the Centre Pompidou in Paris. We are not surprised she has received numerous awards from around the world.





The Works Of CHRLOTTE MASSIP As Interpreted By JR LOPEZ





THE BEGINNING
"Drawing has been a part of my life since I was a child,
thanks to my father's architectural practice on the ground floor of our house,
which was one of the first of its kind.
Growing up in Paris, drawing 'sketching' quickly became a way for me
to connect with the world around me, in theatres, at concerts, and eventually,
as a way to express thoughts inspired by André Breton and George Bataille readings.
The first transition from pen and paper to engraving occurred when,
following my baccalaureate, I enrolled in the École Estienne in Paris,
where I had access to all printing tools.
When I finished with the medium,
I quickly returned to drawing and illustration."


QCEG: Can you tell us about your artistic process?
CHARLOTTE MASSIP: Copper engraving is an ancestral technique: I draw from it "its alchemy" to represent flying fish and hot-air balloons, and even more bodies, mismatched bodies, mismatched limbs, skeletons, characters on which I superimpose fabrics, mechanics and decorative patterns in sometimes imposing formats.
This is is a traditional technique with a pretext of multi-experimentations, just as the themes are the classics though diverted. My works clearly integrate the lessons of the masters of the past, the anatomy and the autopsies of Vesalius, the machines of Leonard de Vinci, and the line of Dürer. They also go towards the universes of the surrealists, always ready to divert the images.
I superimpose with the support of paper features and materials, trace and retrace the new grooves of previously visited motives, and travel deep to reveal a beyond of the appearances. I try to invite a permanent question on the visible reality and the gap between this and its representation.
My eyes, subsequently, drift very naturally towards imaging the body. The body is as much a matter as a reflection, an object of study that is a subject of reflection, and in my work, both remain constantly intertwined. I find this in the technique of the engraving, at the same time pointed and intimate, and using the right tool.

QCEG: What made you decide to choose printmaking and etching? Can you describe what you like about the printmaking process? Tell me about the materials and techniques used?
CHARLOTTE MASSIP: My fascination with detail is probably what drew me to drawing, engraving and printing. Not just any detail but the one that opens up to a deeper truth. So whatever was linked to the texture to mention some like skin, veins, and hairs — are merely a thin barrier, a covering that I felt that I had to get underneath to experience the deeper treasures that are there. Following that, my eyes naturally drifted towards imaging the body. The skeleton became the exemplary architecture of the living for me. It seemed urgent and necessary for my artistic mind to cover skeleton and experience with dissected bodies.
I'm not referring to the anatomist but to those whose organs that are moving, changing roles, and were being confronted with unexpected transplants as a result of strange transgressions of biological rules.
All this may seem baroque, yet it echoes what I would qualify as 'surgical deeds'. The skeleton comes across to my eyes as the exemplary architecture of the living. I try to invite a permanent questioning of the visible reality and the gap between it and its representation.
One can compare the art of engraving and printing with the delicate scalpel incisions whose consequences remain somewhat mysterious. I often use the medium to create prints of landscapes, portraits, and other scenes.
The process of etching requires a great deal of skill and patience, as I must carefully control the depth and width of each line I make. My relationship with copper was quite revealing. The cut of the metal was like surgery to me, starting from the skin and continuing into the darkness of ink and the blood of matter.

QCEG: What is the most difficult part of printmaking for you?
CHARLOTTE MASSIP: Difficult is not the adjective I would use.., I call it an adventure! After the acid bath comes to the surprise, it's always there.

QCEG: Speaking of intensity and energy, how do you make your marks when working on your pieces?
OLIVIA DESSOLIN: Etching artists often work with copper or zinc plates. They can also use other metals such as steel or aluminum. Artists often draw directly onto the plate with a sharp tool or use acid to etch the design into the metal. It is a work of precision and finesse. I use a steel-tipped tool which guides my hand very meticulously and simultaneously in harmony with my thoughts

QCEG: You have lived in Spain for many years. How has this worked in relation to the development of your career as an artist, both in Paris and internationally?
CHARLOTTE MASSIP: I lived at the residency in Casa Velazquez, a French art Academy in Madrid where I studied engraving. As a tribute to Francisco de Zurbaran, the famous Spanish religious artist, I had the opportunity to exhibit some of my artwork next to his paintings in the Monastery of Santa Clara at Seville in 2013. This was such an honor for me. I lived in Spain both on land and at sea. The blue and the light of the Mediterranean turned out to be quite an adventure. I would enjoy my time tracing, sketching, and water coloring all those precious moments of yesterday, faces, and landscapes. I am not a nostalgic person as I prefer being in the present, making projects and constructions that have become solidly anchored in me.

QCEG: Who are your artistic influences? Who (living or dead) inspires you?
CHARLOTTE MASSIP: Many artists inspire me and have influenced me.
Among them: Martin Schongauer, Albrecht Dürer, the Primitive Flemish, especially Jérôme Bosch.
Among the contemporary: are Hans Bellmer, Rudolf Schlichter, Dominico Gnoli, Fred Deux, José Hernandez, and Philippe Mohlitz.

QCEG: Can you describe a normal day for you, whether you are in the studio, drawing, or meeting with galleries?
CHARLOTTE MASSIP: A normal day is my quest for silence in order to set my dreams in my hand and lay them on the copper plate. Once a month I dedicate my knowledge to teaching others for a whole week, hoping to transmit my passion through these professional formations. I love this way of sharing.

QCEG: What feelings or reactions do you hope to evoke in people who look at who look at your work? Are you ever surprised by the reactions you get?
CHARLOTTE MASSIP: An exchange..., a give and take..., a surprise, a bit of everything and hoping that my work keeps being alive on the walls of the buyer.
When the covid 19 pandemic came, I felt discouraged and frustrated. I was unable to organize exhibitions but I often dreamt of traveling abroad to present my work. However, during the lockdown, I was able to continue my artwork with new experiments. I was so happy that I could do this and so I decided to launch a series of decorative frescos wallpapers and products for the house.
I believe in the power of the universe. As each era unfolds and life goes on, we continue to delve into the human clockwork, our bodies reinvented, thinking about the ancient normal masters and classical masters, in the present state of affairs amongst the disasters of our mechanical and demented urbanite world.
Today I am producing contemporary prints, consummate paintings of composition that sing a positive message of art and creation.

Charlotte..., thank you for sharing your creative knowledge with us!