JAOUAD BENTAMA
"Contemporary Artist"

BY SUNA MOYA - 21 DECEMBER 2021
JAOUAD BENTAMA - His Life Journey Reads Like A Storyboard
---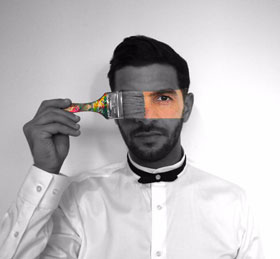 JAOUAD BENTAMA
Contemporay Artist

https://jaouadbentama.com/artworks/
jaouad.bentama

For all enquiries, please contact Fatiha Elbali at:
fatiha.elbali@gmail.com



---

The life journey of contemporary Artist Jaouad Bentama reads like a storyboard. Born in 1982, he was raised as a son of Moroccan immigrants growing up in the outskirts of Paris together with his siblings. Life was was very difficult for Jaouad and his brothers.

He was only eight years old when he would find himself accompanying his father and brothers to the flea market trying to sell old second-hand objects and clothes. Every weekend very early in the morning at the rambling weekend flea market Porte de Clignancourt, he would encounter the world of antique dealers, artists, and street dealers. Jaouad learnt from his life struggles to sell objects with limited experience but these were necessary for the Bentama family to survive as life was hard for immigrants with little money.

His journey to New York in 2012 elevated his creativity and life influenced by his peers and their works where he encountered a turning point which catalise his emergence as a contemporary artist and whose work reflects the childhood world he once lived in.





JAOUAD BENTAMA - His Life Journey Reads Like A Storyboard

How did you become interested in art?
When I was a young child, our neighbour, Monsieur Pierrot, would pick me up from school and bring me to his house. To keep me occupied, he gave me some paper and a felt tip pen and asked me to draw and express my feelings on paper until my mother returned from her work. This was a very important moment in my life as I discovered that I was inspired by this feeling of relaxation and that I could express my deep feelings on paper. I felt a sense of freedom. It was Monsieur Pierrot who introduced me to art and pushed me to express my soul through art.
In the neighbourhood where I lived then, the society was tough, and it was not common to be interested in art. I felt shy to say I wanted to be an artist, while everyone else was into rap, music and boxing, and not art. One needs to understand my roots. I was ashamed to be an artist. I lived in a level of society where many people did not understand nor appreciate art. Art gave me what I needed and craved at that time - Love.

Why did you decide to move to New York?
I was tired of doing things that were not really in my heart. I wanted to be an artist, and I believed that I would have a better opportunity in New York. That hunger, the drive to seek a better life in a new land, often makes one inclined to work hard in search of new opportunities.

How was your life experience in New York?
When I arrived in New York in 2012, it was quite frightening and extremely intense. An artist's life is never easy, but here I was in the city of art full of galleries. The city's art and culture scene can be a dizzying one. It was definitely far from easy, to start with. I barely spoke English. Life was extremely tough, the competition was everywhere, but I loved to communicate on the street, discover artistic talent all around. I love to connect with people in real life. I would look at people in the eye. It was really hard to live, and I went through some of the darkest moments in my life, I became sick, I was lonely, I missed my family and had hardly any money. But on the other hand, it was one of the main factors that took me deep into my soul of art, I could speak emotions through my paintings. Hence my favourite phrase "I speak art". It was the key for me at the beginning: "I don't speak English, I speak art".

What encounters inspired you most in New York?
I was fascinated by New York, the city that never sleeps. I had this amazing sense of freedom to express myself as an artist. I felt I had the power to achieve my goals. I met so many incredible characters who shaped my decisions. A mixture of personalities, for example, one day during a visit to the library, I met an elderly woman. We sat together and spoke about life. I had the feeling that she was a physiatrist as she pushed me to return to my childhood memories and to remember the days when I worked in the street market and to incorporate those elements into my work. She really impressed me and I listened to her. Another time a man who used to be a lawyer wanted to sell his shoes as he had given up that life, I felt the shoes would be another strong element to incorporate into my work.

How did you develop your artwork in New York
I used to paint in the park amongst the other artists and then one day there was an accident where the victim had to be cut out of his jeans. After the ambulance arrived and took him away, I picked up the material and incorporated them into my artwork. Life was constantly tough but I kept on believing and knew that everything would be okay. I followed the advice of the old woman and the strength gained from her. I mixed my past, present and future. I put all my personality into the painting. I love the lights..., it is very very important for me. I play with shadow and develop new methods. I experiment with techniques and challenged myself to be unique. I first worked on drawing a line and then I followed my intuition as if I am in a psychic reading session, it could become a face or an animal depending on the shape and movement. A line can express various moods and feelings. I felt it was a spiritual experience as sacred or transcendent or simply a hidden memory. My work is also a combination of discovered objects intergraded into art.

How did you make money for your living?
I was drawing in the park and I would give the drawings out to people who passed by on the street. I could earn a dollar sometimes three or five, on the drawing. One day a guy came and sat next to me and said these look good, in fact beautiful. It was such an amazing moment for me. A compliment and the start of my exposure.

Where were your first exhibition held?
My first exhibition was in 2013 in New York. It was the beginning, I was determined to succeed, I would exhibit my paintings in hotels and restaurants. The owners of an upscale boutique hotel offered to display my art free of charge in their lobby and as they always say: "Hard work always pays off".

You have travelled around the world and you are considered to be one of the top artists selling to celebrities and featured in the top art magazines. Tell us how you feel about this today.
Firstly, I am happy that my family is very proud of me. I consider my art as something which carries a profound message. I received many feedbacks and reviews suggesting that my paintings are very therapeutic. I like sending messages of hope for others to preside in their chosen part. Art therapy provides a great reprieve for people who find it very difficult to express their feeling verbally and not to be humiliated by people. We should all follow our dreams. Nightmares can be turned into wonderful dreams.

How does it feel to be chosen by Umbro for the collaboration between sport and art ?
I am very proud and humbled to participate in this collaboration. The Umbro project means a lot to me as it was aimed to raise funds for the Robert Debre hospital and the focus wasn't on me. It was a beautiful journey to share my art with everyone and create the Jersey puzzle. They gave me their trust to do what I wanted as an artist. And I was honoured to execute the project.

Finally, apart from the French galleries queing up to be able to exhibit your painting. What is the next dream for you?
I hope to participate in even more exhibitions around the world.., and to meet & inspire a lot of people to be who they are. Let's see if we can be invited to a beautiful international art gallery, an art fair, or an art foundation. The sky is not the limit. I'm my own limit. The art and love one can spread are infinite. It's the artistry journey I believe in.