ANOUFABEARS AND BEYOND

"The Creative Works of French Artist Ylan Anoufa"

BY SUNA MOYA -
Photos Credit: VSEVOLOD ZELIKOV


ANOUFABEARS AND BEYOND
"The Creative Works of French Artist Ylan Anoufa"


---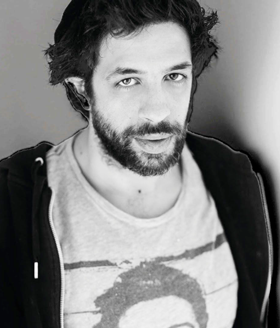 Artist and Designer
---
---



Ylan Anoufa is a renowned French artist and designer known for creating modern art, including his iconic Anoufabears that are made from aluminum, bronze, or other various metals. Ylan's passion for fashion and art began when his grandfather introduced him to fashion. He worked for the G.T.F.M. Group in New York and later launched his own fashion label , which was recognised at Harvard University as one of the most promising upcoming brands of 2015.

Despite his success in the fashion industry, Ylan has always had a passion for creating art. He began by designing metal geometric bears adorned with pop-up graphics inspired by childhood memories. His giant bear sculptures, standing over 2 meters tall, are placed in fashionable locations around the world, and the smaller bears can be found in galleries worldwide. Ylan's art is created in his atelier in Poland, which he named "Anoufaland," and is located next to Torun where he moved to during the pandemic. The atelier is surrounded by a natural reserve that provides peace, inspiration, opportunities which he couldn't find in the city.

Ylan personally cuts, welds, polishes, and paints each sculpture creating a maximum of 50 pieces of art each year. Each , signature sculpture has a name in its eyes and a unique number on its back. Clients who order their bears can provide sentences, graphics, or even stories that Ylan incorporates into the art, ensuring uniqueness and customization for each piece. The bears are then delivered in wooden boxes with a certificate and album documenting their creation.

''As a child I cherished my first possession, a teddy bear, to children, a teddy bear represents a hopeful world. As an artist, through my art, I aimed to inspire positive change and evoke those same emotions in others. I used teddy bears in my work as symbols of hope and happiness, representing a better a world filled with kindness. Despite the imperfect state of the world, I believe in the power of spreading joy and hope to make a difference. My beloved teddy bear always reminds me of the importance of love and friendship. In today's world, it's easy to get caught up in pursuing success and meeting high expectations. However, being human means finding ways to connect with others and make a positive impact.

The Anoufa Bear has become a beloved symbol of hope and happiness for people of all ages. They can be found in many European and Asian cities. They are often purchased by hotels, restaurants, and increasingly, by cultural institutions, museums including city governments.

Ylan Anoufa, has worked closely with partners to create giant bear sculptures, including a stunning 5-meter bear in Warsaw's Praski Park with upcoming installations previewed in Nice, Spain, and Mexico. In addition to his large-scale sculptures, Ylan has opened a new gallery named AnoufaBear, located at Hotel51 in Puerto Banus, Marbella, Spain. Outside of the gallery are two impressive Anoufa Bears standing over 2 meters, and inside the gallery visitors can find an array of small teddy bears, paintings, motorcycle helmets painted with graphics, and candles.

In 2017 Ylan founded the « Art Gang Foundation » a non-profit organization that provides art education to underprivileged children. He stated ''to me, being human means making a positive impact in the world by connecting with others. We travel to schools, orphanages, and hospitals, providing art kits that include small teddy bear sculptures made of clay, along with paints and brushes. Witnessing the children's delight as they create their own teddy bears expresing themselves through art is truly uplifting''.

Art has the power to help children develop and find fulfillment. Our workshops encourage creative expression and positive connections. In a world focused on success and possessions, it's important to remember being human is about being compassionate. We hope to inspire children to pursue their passions and find joy in simple things through art and "AnoufaBear".

But my work doesn't end with installation - I also organize "Bear Days" featuring art workshops, games, and even bear-themed cocktails. Visitors take selfies with the bears and share them on social media, making my teddy bears some of the most popular in the world.

Ylan's art is meant to inspire positive change and evoke emotions of hope and happiness in all who view it. Through his collaborations with cultural institutions and his own gallery, he has brought joy and inspiration to people around the world, reminding us all of the importance of love, friendship, and connection in today's busy and often stressful world.




"Combine Some Love With Colours,
Dreams, Truth, Happiness And Joy
- Then Here It Is, Your AnouBear"