RAOUF MEFTAH
"Universal Art Where Everyone Can Identify And Interact..."

SUNA MOYA - 8 APRIL 2020
RAOUF MEFTAH - OCEAN LETTERS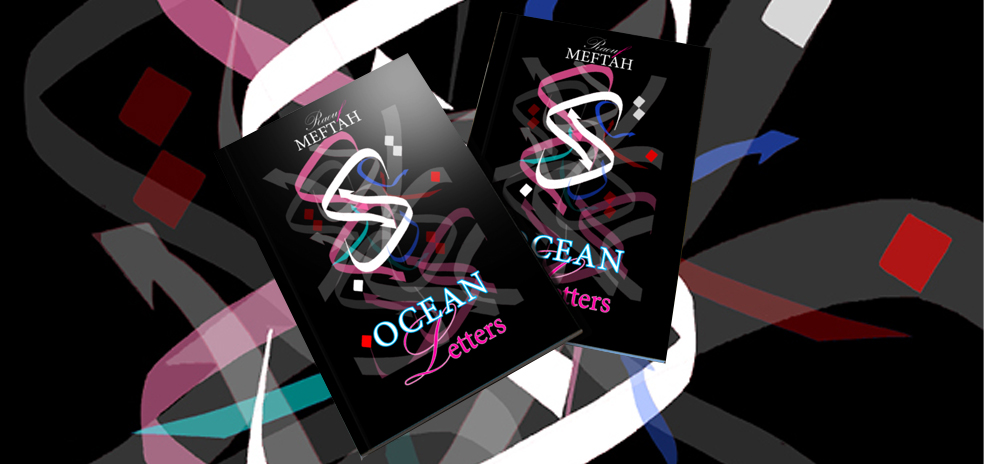 R aouf Meftah was born in 1976 in the Oasis Chenini of Cabès in Tunisia. He is a French-Tunisian artist known for his calligraphy works to which he has received numerous awards and recognition in his country and abroad.
Uniquely combined with other artistic techniques that touch the heart and attract the public's eye through a perfect harmony between Eastern and Western artistic techniques. They create a universal art where everyone can identify and interact with these creations. His calligraphy is the fruit of this richness that challenges us.
The absence of the text in several of his calligraphies does not detract from the story told by each of his works which are a perfect marriage of curves and colours, a story that hides another in every detail and every ornament.
We discover several episodes in the same table often well-hidden and just find the right way to interact with his work because he invites us to watch and admire his calligraphy with the heart well before our eyes. 
In another way the calligraphy, for him is a soul and a spirit since the painting is the fruit of the imaginary plane.
Communication with his work allow's our soul to project us much further than the limit of our imagination. 
Mastering both techniques is like defining a soul to an imaginary world. This is how he challenges us and builds his own unique style.
Interview
Have you ever thought about or analysed the motivation or reasons behind why you paint what you paint?
"In my work I combine art and science…the letters and the framework, the alliance between actions and colours make my painting of that moment...with the ability to communicate through time. Painting is important but not the main motivation of my work, the principal reason is the transmission of culture...artistic wealth is a message that should be motivational  energy that I can tap into - the geometry of the letters, the calligraphy, gold numbers and artistic styles are a message that motivates myself to create and share."
Regarding art,what do you want to portray as a message?
"Culture is an universal means of communication that we share visually in silence. It is a wealth which unifies people and art is also the mirror of development through ages that produces and affects culture and the way of life. Mastering my art and sharing is very important - its important to safeguard knowledge and to be principal actor in the world."
Do you listen to music when you're painting?
"Music is of course an essential factor in my work. It's based on poems, the notes and the rhythm inform my calligraphy to produce the movement of letters - and I use colours as musical notes to wake up us for an emotional dance! So my work is a concert of colours and movement. Ive worked to many songs but at the moment Ommy (my mother) by Maecel Khalifa and lyrics DE Nizar Kabbani and Khadhim Alsaher is one of my favourites."
What is it like to be a calligraphy artist and what's your favorite time during a typical work day?
"Calligraphy art is not a single style of art but art with many styles and science. In my work I combine painting, colours, and letters against the basic geometric calculation of the letters. I still use the technique of Leonardo de Vinci - the golden ratio of numbers - ones that he used in painting, drawing, architecture and sculpture. It's still used in Andalusia."
What is the hardest part of creating a painting?
"Artistic creation is  complicated, consisting of many phases : inspiration, conception, colors' choice, time.. and the result …. but the difficult part for me is the beginning, when and how to start… I can't start creating if I don't have these different steps thought out, in other words, to begin I need to see my final work as in reality in my mind's eye."
How do you know when a painting is finished?
"Ah - there is usually a moment when we stop painting to present the work to the public and then we can say it's finished. That moment when the painting is still alive and we project the ideas we want to show, and communicate with the public. At any time you can look at the same work and it reveals other hidden details, and this is its mystery… the artwork is endless."
How do you prepare for your many exhibitions?
"Exhibitions are a means to share and to talk about art. The normal preparations start with the project itself, the aim, location, the fulfilment of these steps is the key of exhibtion's success."
How do you feel about your success after being awarded so many prizes?
"First it's a mirror of success, then it is a recognition that you are doing something good and you are on the right path and you have to continue working hard. These are very emotional moments that we can't express in words."
Will it be possible to obtain prints of your paintings?
"Yes of course, the signed lithographs of my work are available."
Is it difficult to part with your paintings?
"Separation is usually difficult,  I am attached to my work. Creation is both a hard but a happy moment."
We know that you have just finished your book?
Yes my book is a combination of art paintings and poetry. It is a collaborative work, in collaboration with the German writer and poet Dr Monica Mergiu. In each page you can enjoy poems inspired by my work. 


OCEAN LETTERS is available in Amazon: Click here...!


ACHIEVEMENTS
RAOUF MEFTAH has won numerous accolades and among them are:
Jury member world fashion festival awards Dubai 2019
Oscar AWARD BEST ARTIST FOR ARAB CALLIGRAPHY Dubai 2019
1st prize INTERNATIONAL CONTEMPORARY MURANO ART EXPO 2019 VENICE ITALY
1st prize Golden Prize International Contemporary Art 2019 al QueenArtStudio Gallery Padova Italy
Third International Prize of UNESCO 1999
Alexandria Arab League Award EGYPT 1999
RAOUF MEFTAH - Universal Art Where Everyone Can Identify And Interact...
FOLLOW QCEG MAG
QCEG MAG || ACESSORIES - LOREE RODKIN JEWELLERY