ITALY
"The Sacret Place For Starbucks."

By XiaoXiao - 20 OCTOBER 2018
How Starbucks Entered Italy?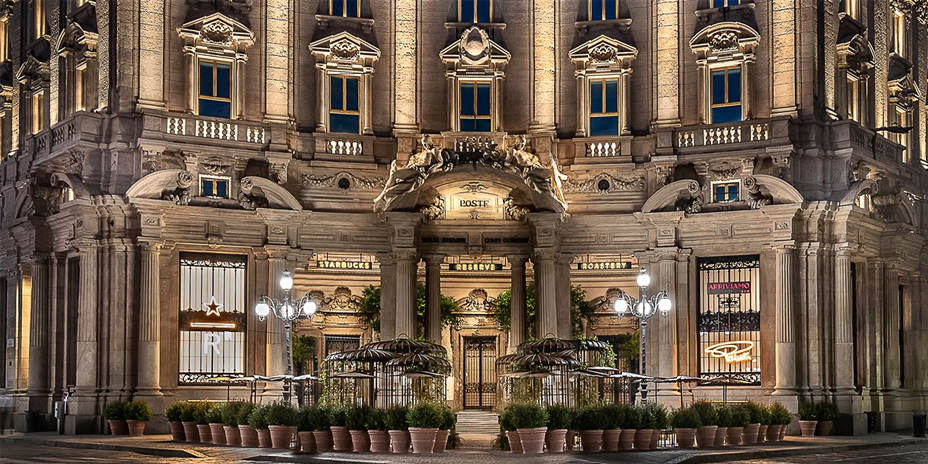 How Starbucks Entered Italy?

"British - education and conversing,
French - fashion and romance,
German - technology and precision,
Italian - tailoring and coffee."



Italy is the fourth largest coffee market in the world where espresso, cappuccino and macchiato originated from. In Italy, The coffee shop or Caffé in is an important place for people to socialise. Barista, the Italian name for bartender is also a respected profession and often relates to a master. LAVAZZA and Illy are established national brands where the whole country is proud of! Most of Italia that can figure out a cup of coffee in front of them is either LAVAZZA or illy anywhere.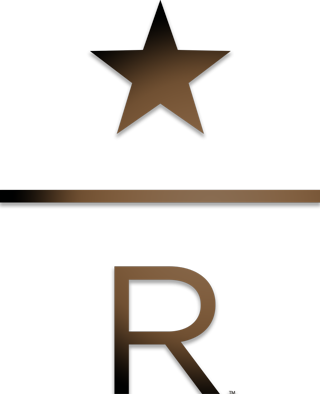 Before Starbucks begin in Seattle, its founder Howard Schultz went to Italy to learn the feeling the Italian coffee culture and attitude. After returning to the United States, he combined local lifestyles, values and local social prefrences and continually improve Starbucks to its popularity today. In the initial founding stage of Starbucks, Schultz had a lot of headaches about how to promote Starbucks coffee with passion, how to let Americans accept Starbucks and its accept coffee culture among others. Conveying the right values & recognitions, Starbucks gradually become the daily choice for people in many cities.
Italy is the first "sacred place" for Schultz's dream. Starbucks carefully plan the development trend for Italy. The founder Schultz has also said: "Starbucks is not to teach Italians how to make coffee. we will be humble with great respect to enter the Italian market."
The first cafe Starbucks Reserve Roastery in Italy officially opened in early September this year. Located in the Post Building situated at the main fashion business street in Milan—Piazza Cordusio, Starbucks Reserve Roastery occupies a 2,300 square meters of space equipped with 6.5-meter- high bronze cask, long marble bar carved from a single block of Calacatta Macchia Vecchia with numerous brass decor elements.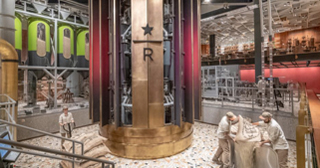 Customers are provided with a hand-crafted menu with more than 115 beverages across multiple brewing. Baristas also presents customers the process of baking and brewing coffee bean and serving regular coffee with a selction of bakery at the Arriviamo Bar Inspired by the Italian aperitivo – social cocktails paired with small delicacies in the early evening hour. If you have other interests, you can go to Affogato Station where hand-crafted ice cream is made-to-order using a unique and theatrical liquid nitrogen finish to create the perfect ice cream to be paired with a delicious shot of espresso. The variety of products not only increases the "sense of luxury" of cafe, but also directly increases the price. A regular espresso sells for 1.80 euros which is almost twice the price charged at local cafes in Italy. This Starbucks Reserve Roastery is the third in the world after Seattle and Shanghai. It can be seen Starbucks sees Italy as important market.
Although Starbucks is constantly expanding its number of stores in many countries, Italy is not an easy market. In October 2015, there were media reports that Starbucks will enter Italy. In February 2016, Starbucks announced that it will open its first store in Italy in 2017. At the beginning of 2017, Starbucks announced that the opening plan will be postponed for one year. It then opened in Milan at the end of 2018. Italy's first store was delayed for three years, and it really meant to the phrase: "It's always hard at the beginning."
After Milan, Starbucks' Italian partner Percassi Group is looking for a suitable location in Torino. The location has not yet been finalized, but perhaps the piazza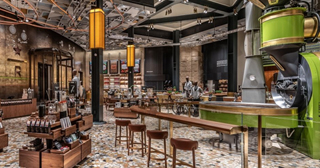 Castello or the university district. Maybe both of the places. Different with traditional Italian cafes, Starbucks offers customers not only coffee, but also social, work and study venues, unlimited time, and free wireless internet. These factors attracts young customers. In Starbucks Cafés around the world, there are many young customers who enjoy reading or chatting while enjoying a large cup of American coffee or Frappuccino in a public space with free wireless internet.


Is Starbucks really becoming the daily choice of Italians over time?
Every country has an industry that supports its own cultural and economic development. This is a country that built a museum of combines coffee history and technology. No one can find a cup of Americano in any traditional Italian cafés, not to mention Frappuccino to them, only get despised back. Starbucks arrival in Italy influences Italian market: the customer experience is more comprehensive and more convenient for tourists and young people.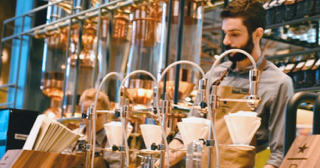 The Italian market has made a lot of targeted preparations, and it is time to prove that the world's main coffee cups with milk, syrup and espresso are compatible with Italian culture. The future facing Starbucks is not a market that can grow into a trillion-dollar market in less than a decade using business strategies and "smart retail" to win people's favor. For Starbucks future planning in opening 300 stores within 6 years, it can be seen from Milan that at least local young people can accept Starbucks, and these stores can really help increase local young people's employment opportunities.