CELEBRATING THE UNITED NATIONS CHINESE LANGUAGE DAY 2022
"Chinese is not only one of the six official languages of the United Nations but also contributes to world culture..."

BY SUNAMOYA - 13 MAY 2022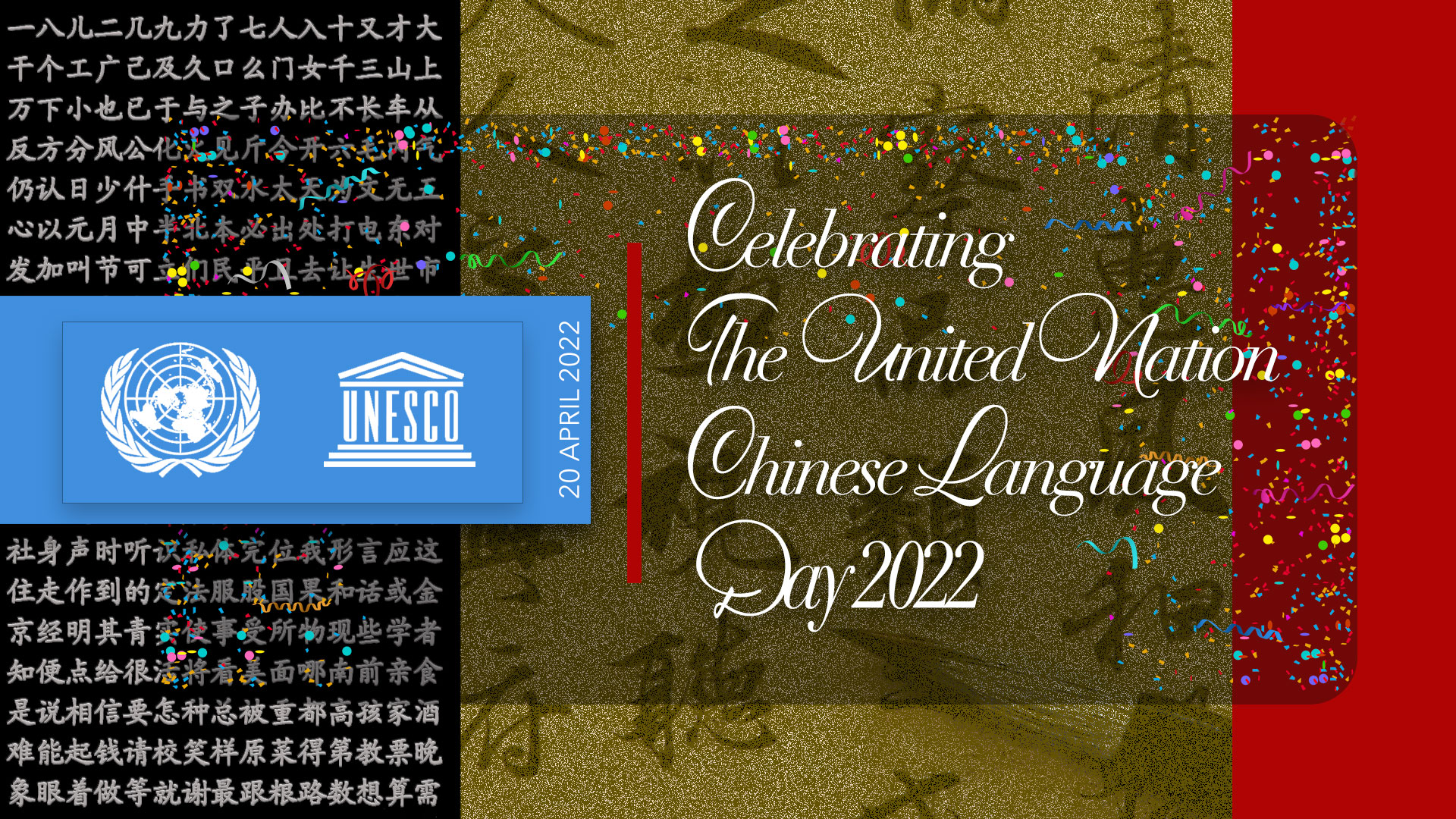 CELEBRATING THE UNITED NATIONS CHINESE LANGUAGE DAY 2022
"Chinese is not only one of the six official languages of the United Nations but also contributes to world culture..."
---

A C K N O W L E D G E M E N T


With thanks to:-


CECAFC
Centre d'Echange Cultural et Artistique France-Chine

UCA
Community Association of Unesco

AECFC
Association d'Echange Academique et Culturel France-Chine

SOPHIE WENQUI

ERIC TIBUSCH
Fashion Designer

CHARLES JACKOTIN
Cameraman

DANIEL NGUYEN
Photographer



---

The United Nations Chinese Language Day 2022 was held at the UNESCO Headquarters on Wednesday, April 20th, the very day that Cang Jie, (reputed to have invented Chinese characters), is celebrated.

The President of the 41st UNESCO General Conference, Santiago Mourao said during his speech that "Chinese is one the oldest script still in use. When we celebrate the Chinese language, we also celebrate its contribution to cultural diversity, to intercultural dialogue and lasting peace."

The United Nations has marked this day since 2010, celebrating the language's contribution to the world while encouraging more people to learn it. Language is a tool of peace and knowledge because it is a direct link to history. Languages are an important part of each one of us and they are also a part of our identity as human beings. The origin of the Chinese language comes from the discovery of the famous Oracle bone script (which is believed to be the ancestor of modern Chinese characters). Written language is a central determinant of the development of civilization, and the Chinese writing system was the first writing system developed in East Asia.

Tamara Siamashvili, Chair of UNESCO's Executive Board, said that "Chinese is not only one of the six official languages of the United Nations but also contributes to world culture". Representatives of some 80 permanent delegations to UNESCO and Chinese staff participated in the celebration, which was jointly organized with the China Media Group.

The event was very enjoyable, China has a long history and has developed quite independently. There is so much to learn from Chinese culture, the ancient traditions where modern technology has formed the China of today. Multilingual education is an incredible tool that promotes tolerance, diversity and understanding between communities. It directly fights prejudices and stereotypes. By opening our horizons through a change of attitude and mentality, it helps us empathize with other cultures.

It was an evening where we discovered culture, music, fashion and food and we will certainly be celebrating the Chinese language alongside its rich heritage.




CELEBRATING THE UNITED NATIONS CHINESE LANGUAGE DAY 2022
"Chinese is not only one of the six official languages of the United Nations but also contributes to world culture..."