PARIS COLLECTION
CHANEL HAUTE COUTURE
Spring-Summer 2021 Collection
"Like a family celebration, a wedding..."

BY MEEKAR - 8 FEBRUARY 2021
CHANEL HAUTE COUTURE
"Like a family celebration, a wedding..."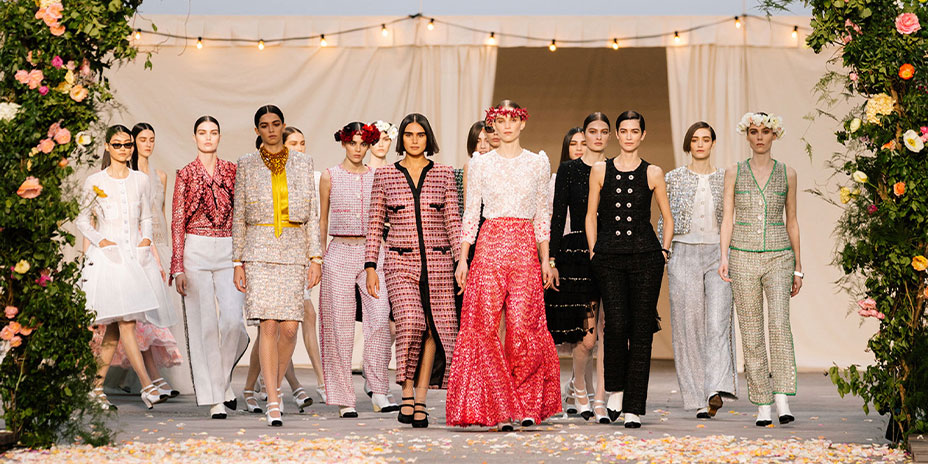 ---

VIRGINIE VIARD
Artistic Director of Fashion Collections
CHANEL

#virginieviard
chanelofficial
CHANEL.com


---

Romance and reunions inhabitants the atmosphere at CHANEL: Virginie Viard's presentation for CHANEL's Spring-Summer 2021 Haute Couture Collection featured nonchalant contemporary style & elegance in alluring '60s-tinged mood which initiated the show's opening.

This season's silhouettes presented ease and simplicity with sweaters or sleeveless vests worn with high-waisted pants, slim cardigan jackets & liquid satin shirts with ballet skirts. The final bridal look was presented with a CHANEL model on a white horse gracefully entering the centre stage escorted by a handler.

Virginie Viard transpires the legacies of CHANEL with its iconic embroidered macramé and intricate tweeds for the new looks reflecting the intimacies of Gabrielle "Coco" Chanel, the works of Karl Lagerfeld for the house, and the brand's renowned ateliers.

"A lot of flounces and petticoats. There is a masculine/feminine side to the silhouettes," said Virginie Viard.

The show was held at the Grand Palais Paris which was transformed into an exquisite ceremonious space filled with petals of flower decor..., evoking the charm of a country wedding in the South of France for the event.

Presence at the show were celebrity guests - Penélope Cruz, Marion Cotillard, Charlotte Casiraghi, Vanessa Paradis, Alma Jodorowsky, Lily-Rose Depp, Izïa Higelin, Joana Preiss seated in socially distance places in the venue amongst others.

The pre-show openng featured a black & white family portraits of ambassadors and friends of the House and a cast of models photographed by celebrated filmmaker - Anton Corbijn in the Haute Couture Salons at 31 rue Cambon in Paris. After the show's clossing, Caroline de Maigret hosted a roundtable conversation in the Grand Palais.

The film of the CHANEL Spring-Summer 2021 Haute Couture show was also directed by Anton Corbijn at the Grand Palais.


CHANEL HAUTE COUTURE
Spring-Summer 2021 Collection
"Like a family celebration, a wedding..."
The Looks