CHANEL 2021/2022
CRUISE COLLECTION
Carrières de Lumières - Les Baux-de-Provence

BY MEEKAR - 10 MAY 2021
CHANEL 2021/22 CRUISE COLLECTION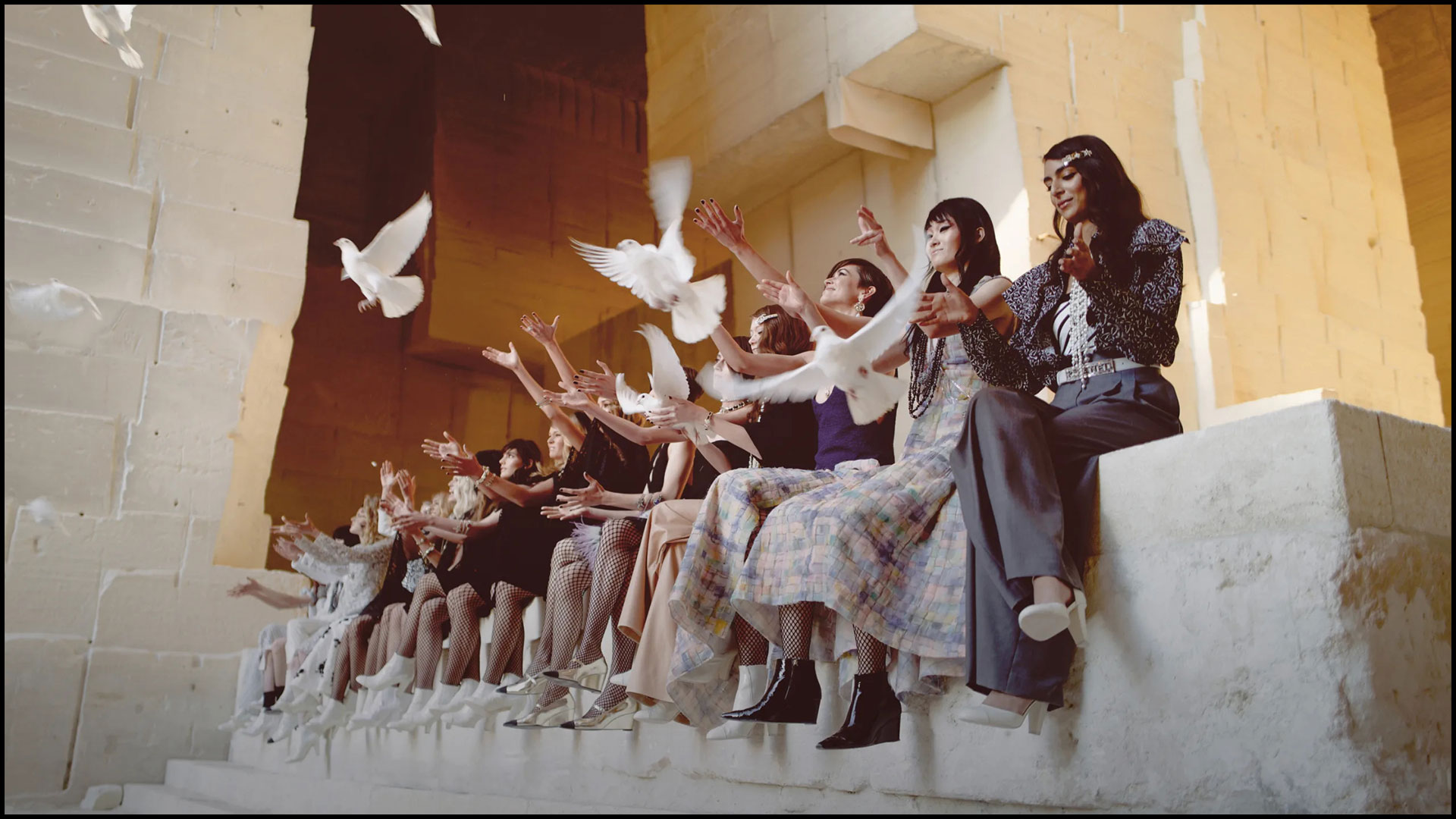 ---


VIRGINIE VIARD
Artistic Director of Fashion Collections
CHANEL

#virginieviard
chanelofficial
CHANEL.com


---


The CHANEL 2021/22 Cruise Collection was officially debuted with a virual show at the Carrières de Lumières with its limestones as backdrop for the presentation in Les Baux-de-Provence. For this collection, Virginie Viard drew her fascination from Gabrielle Chanel and one of her greatest friend - Jean Cocteau & his 1960 film Testament of Orpheus which inspired the theme of her new designs.

Amongst the iconic tweet suite ensembles with beats, sequins and braids, the cruise collection carries some new and lighten designs with silk prints, leather fringes, worn with net stockings, and an array of bags, custom jewellery, and shoes. Elements of rock-n-roll, the sixties, and punk modernity are also reflected in the collection with black/white and masculine/feminine contrasts which Virginie has bodied to the collection.

A short film had been earlier released before the show's debut in Les Baux-de-Provence. The film was directed by Inez & Vinoodh featuring model Lola Nicon inhabiting a variant of looks from the collection in Coco Chanel's home at 31 Rue Cambon.



Testament of Orpheus and the Staging of Chanel 21/22 Cruise Show
Testament of Orpheus (in French - Le testament d'Orphée) is a 1960 black-and-white film with a few seconds of color film spliced in. The film was directed and starred by Jean Cocteau himself where he played an 18th-century poet. The mise-en-scène of the film which set the backdrob for CHANEL 21/22 Cruise Show was when the man with a black horse's head against the limestone walls of Carrières de Lumières.
CHANEL 品牌形象大使Charlotte Casiraghi谈到Gabrielle Chanel和Jean Cocteau与Caroline de Maigret之间的独特关系。CHANEL的朋友和作家Anne Berest曾陪伴她。
CHANEL 2021/22 CRUISE COLLECTION
CHANEL 2021/22 CRUISE COLLECTION
Carrières de Lumières
Les Baux-de-Provence