FAIRYTALE BOHEMIAN AND HISTORICALLY INSPIRED


Written By Vanda Cordeiro - 25 JUNE 2020
PRODUCTION
---
NAHOKO SPIES | Photography & Post Production
JOAO PEDRO MONTEIRO | Photography Assistant
NADIYA RUDENKO | Model
CONVENTO INN & ARTIST RESIDENCIES | Location

---
FILIPE FAISCA "A Unique Bond With The Feminine World."
---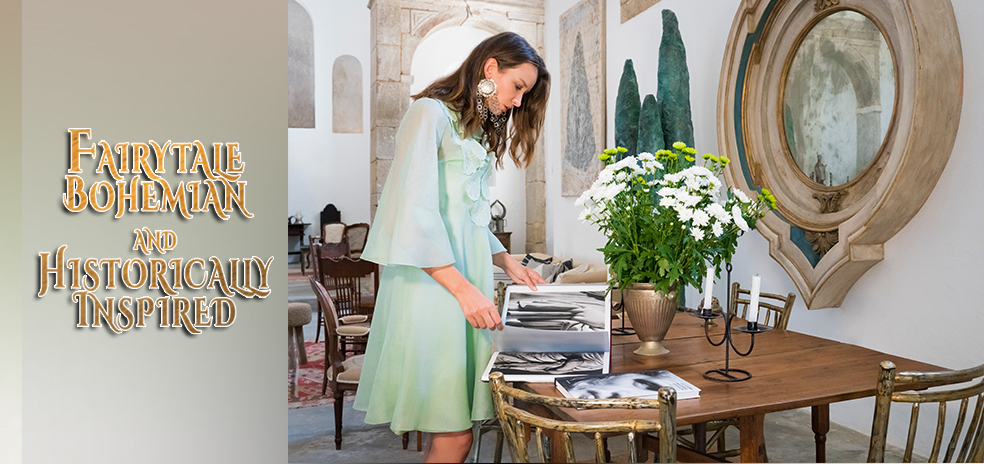 As a designer Filipe Faísca creates a unique bond with the feminine world. Like a curator he takes on his expertise and talent to design a single wardrobe customised to the modern woman. His spiritual approach to each piece and deep reflection, is manifested in his choice of raw materials and colours with a conscious elegance that distinguish the new age fabulous
A complementary harmony between woman, nature and art these pieces exude Angelic Seduction with a modern twist. Sexy and empowering designer wear with a nod to the romantic innocence with a modern edge, that exudes free spirit, whilst balancing form and elegance. The perfect combination for the shoot's location in a converted 16th century convent shrouded in royal history and aristocratic bohemian flair.
Distinguished, with a unique perspective on fashion and trends, Filipe Faísca creates the dreamy weekend casual, stunning party dress or perfect white shirt that makes you stand out from the crowd. Filipe Faisca's pieces are the epitome of Luxury with personalised fashion trends tailored to your body and soul.
A fashion designer who loves to break conventions and embrace ever changing trends and styles, Filipe Faisca's collections feature handcrafted pieces that are created with high-quality fabrics and incredible attention to detail, encapsulating the style, ethos and ideas of the couturier himself. His interpretation of modern life gives rise to an almost theatrical aura that serves as a warning and mirrors an acute awareness for the problems of society.
Find your perfect dress with a visit to Filipe Faísca's Atelier, at Calçada do Combro n.99, in Lisbon before you head to Convento Inn, and immerse yourself in the scent of nature and warm glow of the golden light of summer, of the Portuguese countryside. Recharge and reconnect with the inner self that makes you a unique woman.
Convento Inn & Artist Residencies
→ CONVENTO.PT
FILIPE FAISCA "A Unique Bond With The Feminine World."