RAF SIMONS' FIRST FASHION SHOW AFTER JOINING PRADA
The Spring-Summer 2021 Presentation (Milan Fashion Week)

26 SEPTEMBER 2020
PRADA - The Spring-Summer 2021 Presentation (Milan Fashion Week)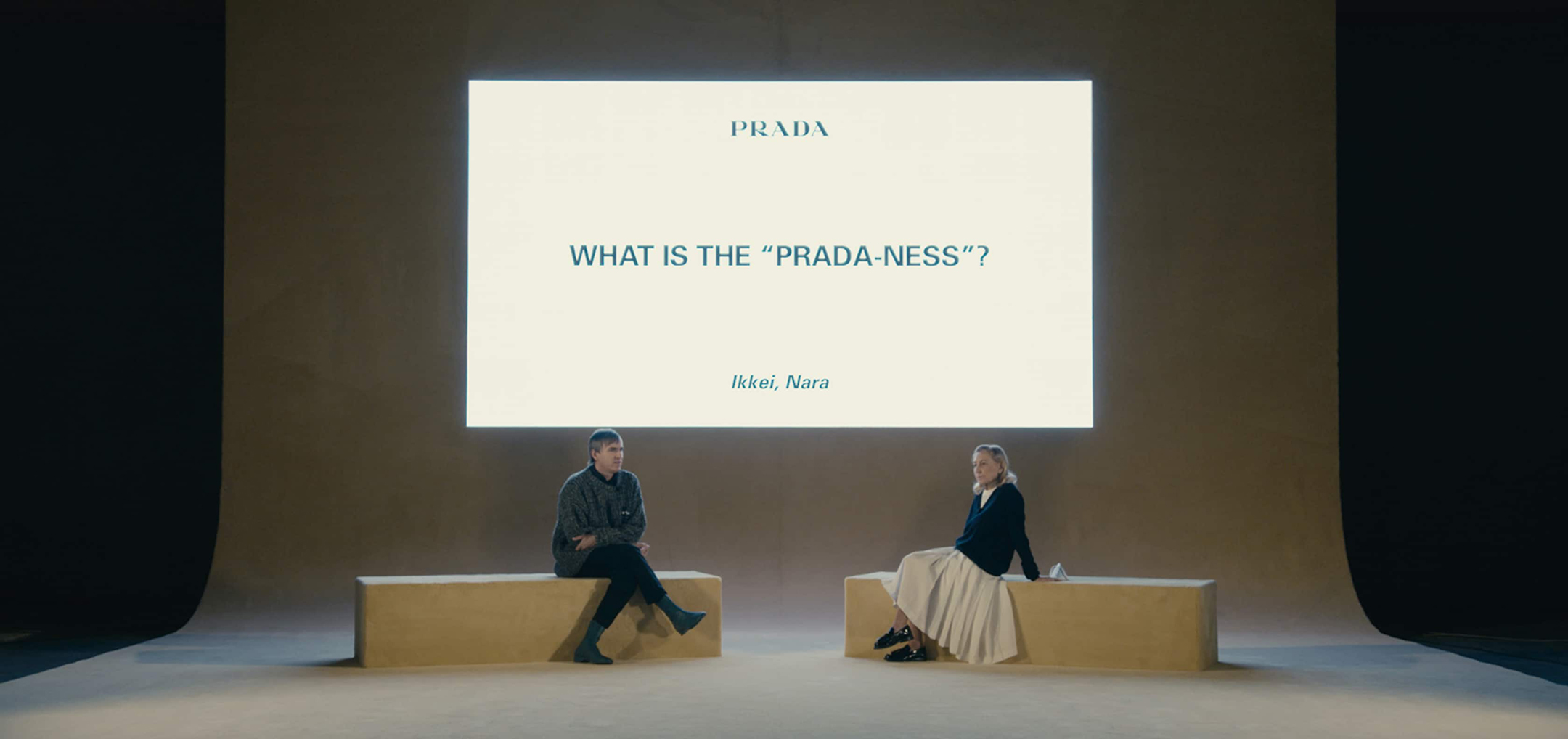 All Photos & Video - PRADA


Miuccia Prada is a designer with a distinctive personality, clear logic and originality, leading PRADA to bring strength to women time and time again. While Raf Simons has not only made his name redefining popular brands with his creativity but has also left a legacy in DIOR, JIL SANDER and CALVIN KLEIN. The PRADA Spring/Summer 2021 Women Collection is the first time they have worked together. What spark did they create?
Miuccia Prada and Raf Simons broadcasted their Spring-Summer 2021 Women's Wear via live video at 2 pm (Milan time) on September 24, 2020, at the Fondazione Prada Foundation in Milan. Technology has become an integral part of our lives, pulling people closer and increasing the transmission of information. The fashion show is also a digital display, set in the warm yellow space with monitors and cameras from different angles to film each model on the scene. And the screen flashing the appearance of the model's name and collection. The equipment placement and design not only presented a sense of technology but also its functionality.
Models on this PRADA's Spring-Summer 2021 Collection paraded holding their coats made of nylon and taffeta fabrics, a detail that appeared at the PRADA Fall-Winter 1988 Collection, as did Raf Simons at the Jil Sander Fall-Winter 2012 Collection. The design of the black nylon coat with water-ripple prints and the flower pattern on the white coats matching the text slogan, giving an elegant and romantic feel.
Knits and skirt matching has always been PRADA's dressing code for knowledgeable women. The new line of knitwear features hollow and overlapping elements paired with a wide hem, revealing a stylish and retro blend. PRADA's triangular designs mixed with numbers and prints in street-style nylon gowns showing feminine vitality with swaying, lightweight skirt.
The bright-coloured H-shaped skirt has a simple design with text, geometric and three-dimensional floral elements, and tailored straight trousers and sleeveless tops, showing comfort and casualness. When your clothing matches your aura and is comfortable to wear, your brain is naturally in high-energy mode.
PRADA's two-pattern garment in the show appeared in the PRADA Spring-Summer 1996 Women's Collection and the PRADA 1996 Autumn-Winter Women's Collection, with text slogans and geometric figures giving the classic looks a layer of contemporary fashion aura.
Pointed shoes and cat-heel shoes appearing in this collection have always been the classic shoes, and they match the simple & smooth lines of to PRADA's Collection.
PRADA's new bags are vibrant, strong practicability and simple. They are sure to become hot-sellers with their stylish design.
PRADA's iconic triangle elements not only appear to a large extent on their clothing, but also appear on accessories in geometric designs.
PRADA asked global netizens to ask questions on the official website before the fashion show. Miuccia Prada and Raf Simons answered some of these questions in the form of dialogue. At the same time, both designers shared their ideas on innovation & fashion and shared many similar views. We look forward to learning more of their cooperation and exploration into the depth of the fashion universe together.
PRADA - The Spring-Summer 2021 Presentation (Milan Fashion Week)
THE PRADA LOOKS