THE ELEGANT STYLES OF GIORGIO ARMANI AND HIS BEAUTIFUL GIRLS BY THE SEASIDE WITH ITS CHARMING AMBIENT

"She inhabits the infinite charm and mystery like the sea with her graceful figure that faintly revealing as she walks..., all beheld in everlasting memories."
2022 SPRING-SUMMER READY-TO-WEAR

BY XIAOXIAO - 27 SEPTEMBER 2021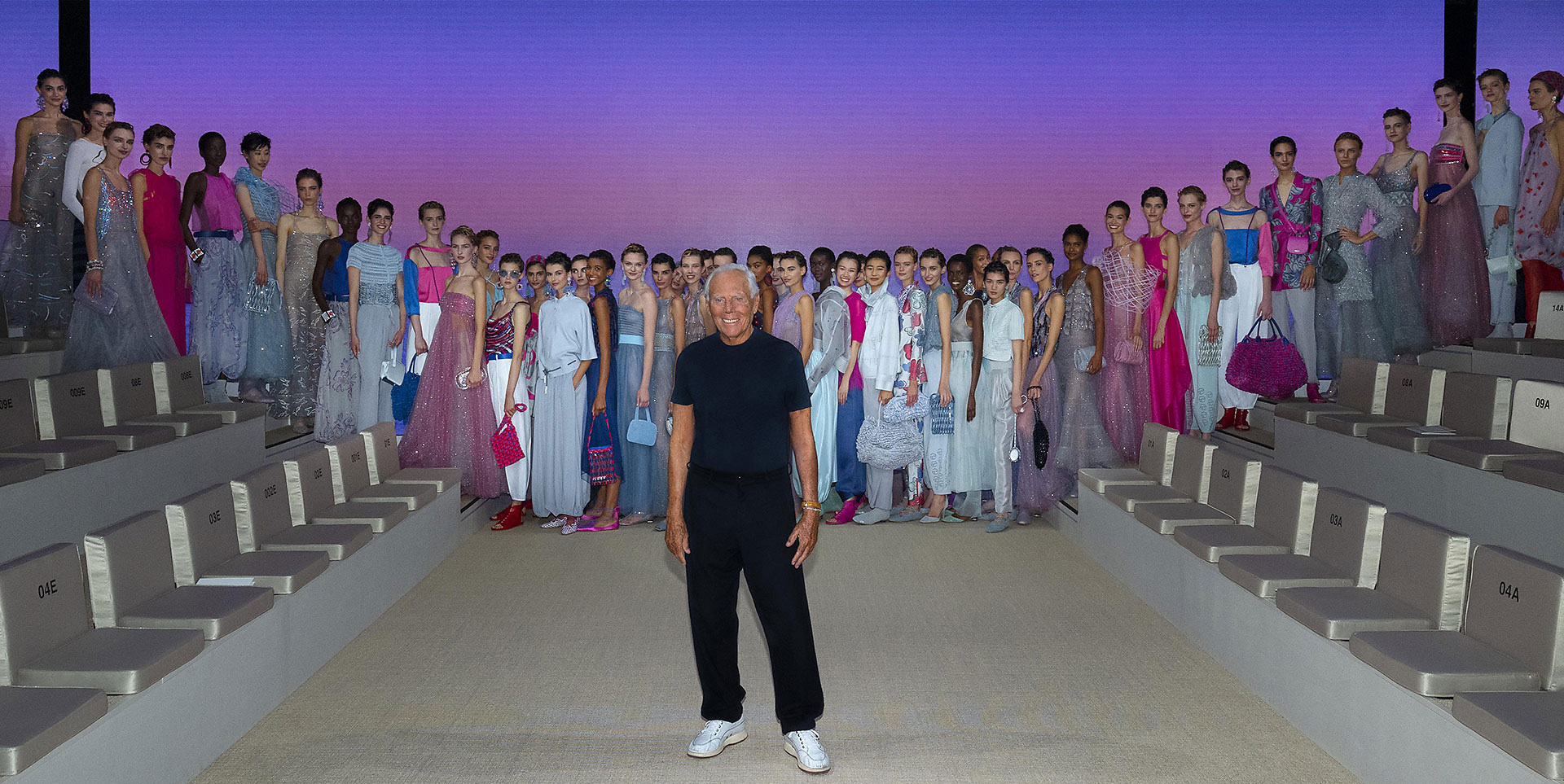 Before the unveiling of the Giorgio Armani 2022 Spring/Summer Fashion Collection, two icon photos from the "Memories of Summer" were presented. They are from Giorgio Armani Spring Summer 1990 Women Campaign by Jacques Olivar. Giorgio Armani continues creating beautiful contemporary designs with a deep sense of fashion cycles and having witnessed its evolving changes

At the historic Italian theatre located at 21 Borgonuovo Street in Milan, Giorgio Armani held his show. A screen across the entire background of the stage illuminating the harmonious sea into the infinite sky with suiting music reminiscing the sea-side environment. Giorgio Armani's models presented his collections comfortably with smiles and elegance in relaxed paces. Headscarf with its exotic style, the ingeniously tailored shoulder-padded suit jacket, and the soft and elegant satin windbreaker match with soft and comfortable satin casual trousers. Giorgio Armani's designs are smart and concise. They present slenderness and streamlined contours that is refreshing, comfortable, relaxed and elegant.

Elegant and light dresses made of tulle and chiffon with different shades of the same colour and line prints enabling ease of wear to a party. As the reflection of sunset radiates in the background, eye-catching bright colours appear..., Light pink vest, trousers and dresses made light fabric matching the blues and whites resembling the colours of the sunset ambience - simply charming and magical. The gorgeous floral-printed taffeta and trousers made of light fabrics are magnificent.

As the sunset gets into deeper purple tones with the shimmering sea, faint star-embroidered tulle dresses appear to the gentle colour changes into a dreamy fairy evening.

Handbags with their streamlined design match the gentle and casual clothing. They are suitable for different occasions.

"She inhabits the infinite charm and mystery like the sea with her graceful figure that faintly revealing as she walks..., all beheld in everlasting memories."