AIREI MEN'S SPRING-SUMMER 2023 COLLECTION

"Handspun Threads And Handwoven Fabric"

BY SUNA MOYA - 8 JULY 2022
AIREI MEN'S SPRING-SUMMER 2023 COLLECTION
"The Sunflower Gardens Collection"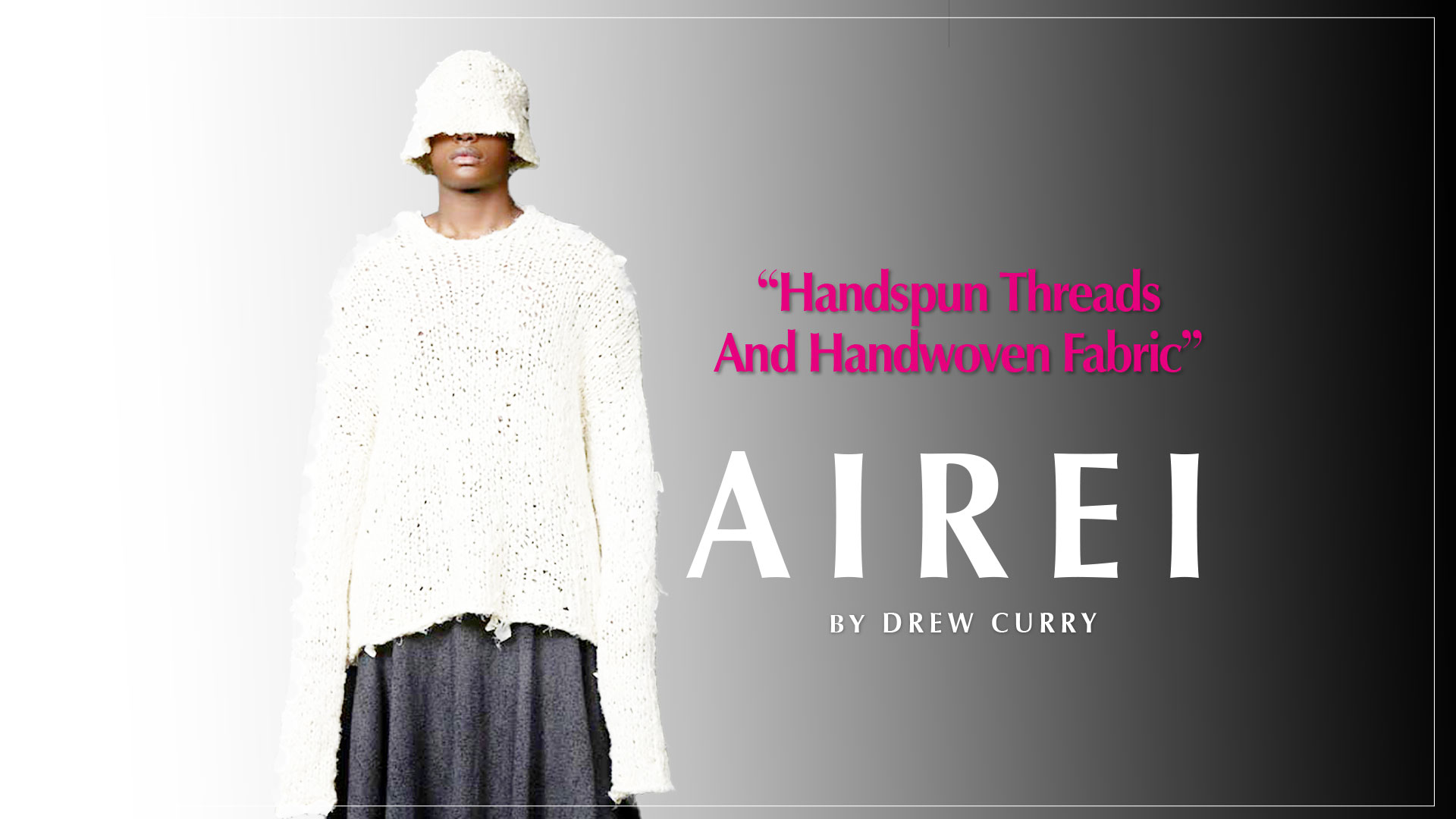 ---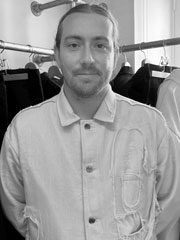 DREW CURRY
Designer

@airei.la



---


"Handspun Threads And Handwoven Fabric"




Upon entering the room, I was taken aback for a moment by the rows of empty beds that resembled a dormitory. People were wandering around and pulling down the covers only to discover different articles of clothing tucked inside each bed. They then pulled up the covers and moved on.

Eventually, two men arrived dressed in white garments, carrying a ladder and wheeling an intravenous infusion drips stand. They looked like people from hospital infirmary and they moved to each bed stopping to remove the garments and then hanging them up on a metal rail which was attached to the ceiling to reveal the collection.

It was a very strong statement referring to the Airei Spring-Summer 2023 Menswear Collection.

We learn later that the installation represents the experiences and challenges that the designer, Drew Curry encountered during his travel to India.

Eager to understand more and discover the collection we interviewed this incredible designer who is reaching out to humanity and whose clothes are fast becoming fashion must-haves with celebrities and VIPS who can't wait to get their hands on a piece of the collection.

For the Autumn-Winter 2022/2023 collection, AIREI's collection will be stocked globally at all Dover Street Markets and other retail partners including SSENSE, H. LORENZO, and IF SOHO.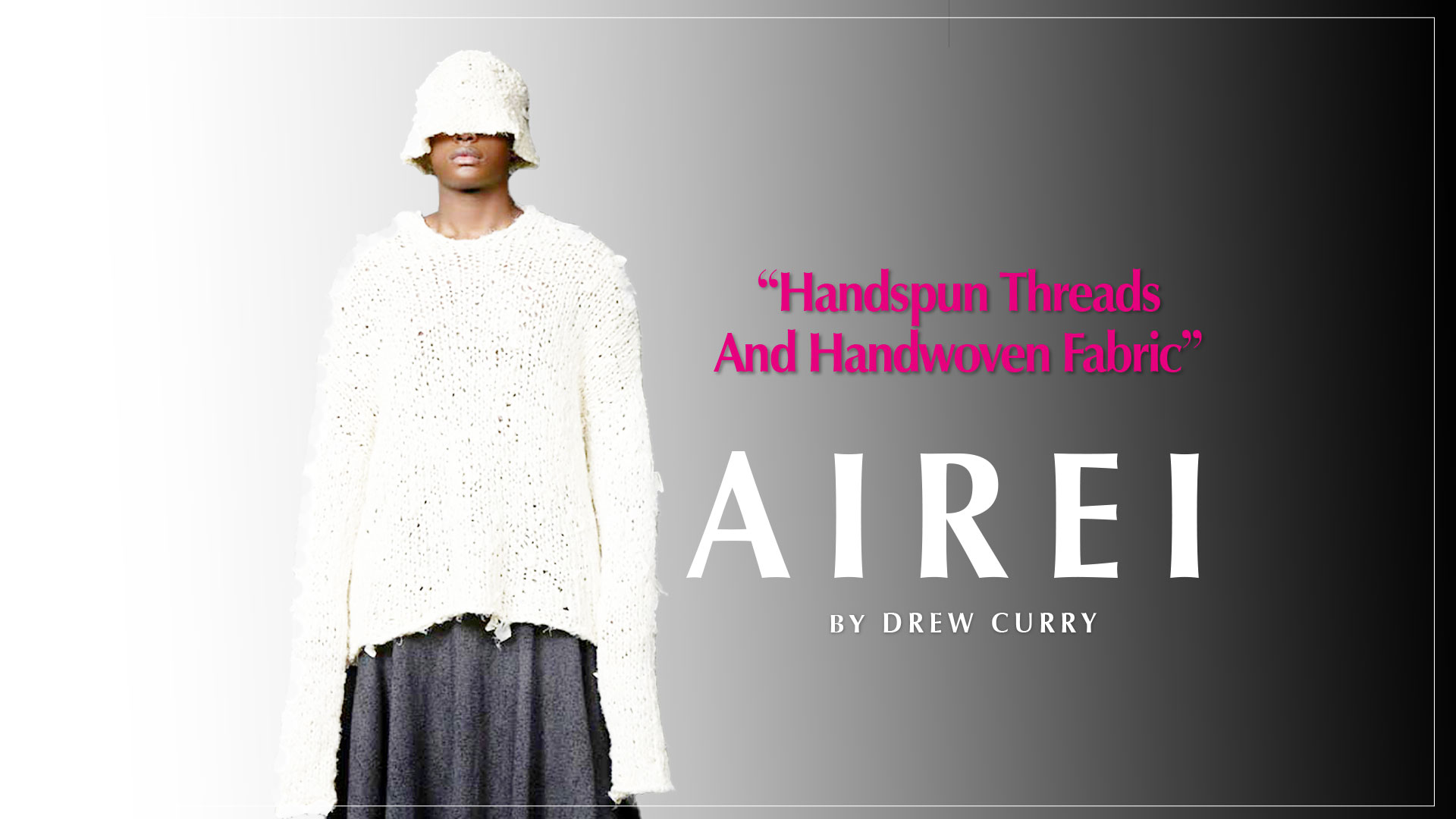 Collection Video Produced by Rohan Satyavrata & Logan Lochtefeld
AIREI MEN'S SPRING-SUMMER 2023 COLLECTION
"Sunflower Gardens Collection"


QCEG: "Can you please tell us something about the history of Sunflower Gardens Collection."
DREW CURRY: "The Sunflower Gardens Collection represents a lot of my personal experiences and memories. It all started when I was just 14 when I travelled with my father to India. My father works in non-profit associations so I accompanied him on his mission to Kolkata which is considered to be one of the poorest cities in the world. As a young teenager growing up in the USA, I had never been to such an intense place or seen such poverty. I immediately felt the contrast between my life living in such a well-to-do environment with all of the benefits it brings and being lucky to have such great parents. It was as if I had hit the jackpot compared to these poor people. But even suffering life difficulties and terrible living conditions they were still able to smile. They were so poor yet so generous in spirit. Years later, I decided to return to Kolkata as a volunteer at the Nirmal Hriday, home of the Pure Heart but it is also known as a home for the dying. In fact, it was the first home that was set up by Mother Teresa. It was really a place and it still is, where they take people from the street such as blind children, elderly people, orphan children, many who have never had homes and people that really need intensive care. Actually, they are very close to that transition into the next life or heaven or whatever you believe happens after death. My duties consisted of cleaning the floor and hand washing their laundry. It was all very physical. I was helping people to eat and helping to comfort them. It was that experience that fascinated me. It made me understand the fragility and also the strength of humanity and we discovered the bare assets of life and values. We were only here for a short amount of time, but it was a very moving experience."      

QCEG: "How did that experience lead you to fashion design?"
DREW CURRY: "Having always been a creative person, my idea has always been to draw the line between the art world while at the same time examining the human element. I wanted to promote humanity through my fashion and installations. I find people project themselves through what they wear which impacts your thinking. So if someone wants to wear a luxury garment it is like a facade of yourself. You can dress to be who you are and how you would like people to perceive you on the occasion and I think that's beautiful. It is a freedom of choice. Airei is the same but with a reverse side, my garments divulge the rawness of human life with a story of the joy and pain that makes you unique and different from other people because it is your story. With Airei, I want to highlight adding the human touch back into the clothing."      

QCEG: "How did you decide the name for the collection?"
DREW CURRY: "The name of the title "Sunflower Gardens" was derived from the apartment complex I lived in during my stay in India that was located in a highly islamic community.area. It was actually very intense place as hindus and muslims do not get on very well and there was often bad energy around. Sometimes I felt that it was better to stay in bed and not leave the building as it was quite tough outside. I thought that by leaving the comfort of these four walls I would be thrust into experiencing these aggressions, so I thought about that need of comfort and the urge to feel safe and secure. The consequences of life and adventure once you pass that barrier of fear. For this reason, I titled the collection Sunflower Garden rethinking the idea of contrasts between comfort and risk, the fragile with the durable. I have always loved the sunflower. I felt it beckoned the light."      

QCEG: "Can you please tell us about the beginning of your designs, the first garment, and when you decided it was fashion that would become your destiny?"
DREW CURRY: "Maybe this sounds cliché , but I think the fashion found me. My fashion represents a combination of my experiences. I feel fashion is like art, an indication of how you feel about yourself and how you want to project yourself to others. For example, the jacket I am wearing today with its broken threads is almost saying I am here like a servant but it is a statement piece that is living with me. The first actual garment that I designed was in Calcutta with a local tailor. It is what you call an 'Kurta', that long shirt with buttons. I loved the fact that I changed the neckline and redesigned the shape and sleeves. It gave me inspiration and my first step to becoming a designer."      

QCEG: "Which fabrics are you using and where do you source the fabrics?"
DREW CURRY: " Most of the fabrics I use are natural such as Khadi cotton and silk and are woven on a handloom at my community factory in India. I love the texture of the material especially with the imperfections, as it is another way I highlight my love for India. Khadi is known as the fabric of freedom in India. I also work with the traditional Kantha blanket and it will take four people about two weeks to make. The blankets are hand-stitched on the exterior fabric and the filling is made from the Khadi cotton batting. We then lay the patterns down on these blankets ready to cut. The vests are also filled with Khadi and are produced in India. We use a lot of great fabrics from Japan such as the wool tweed jacquard lined 100% with Koopa which is a natural material that feels like silk and an alternative to silk. All of our yarns are made in Italy. For example, we used half recycled cashmere and half wool. Everything is made and produced in Los Angeles except for the Kantha vests and jackets."      

QCEG: " How would you describe the style of your garments?"
DREW CURRY: " I have always been fascinated by the wearers' participation in the garments. For example, pockets are hidden underneath the gauze in this jacket and with wear & tear, the jacket will rip or it will decompose over time. I love to add that human touch to the clothing, Actually, I have only half-finished the garment. It is the body that will give it life and finish the story. The wearers' job is to complete the story? There are vests in khadi, silk jackets with many layers, and shirts that were made with 8 layers of gaze, which also will fray over time. My long pullovers take 2 hours to knit with recycled wool from Italy. Another shirt that I'm proud of is made with strong Japanese denim and on the back is a design made in hand stitches. I call this the "Protection Strip". The design is of the Mother's House, and it is where Mother Teresa lived, (you can see her bedroom). Over time these fragile stitches will get plucked out or just fall out. It represents the contrast between fragility and durability. I use the colour saffron for our brand image as it is very important in India in Southeast Asia. In the Buddhist tradition, it represents the symbol of purity. While I know I am making clothing in the materialistic industry, I use the saffron to remind me why I am doing it. And that is why we have hand-stitched the letter A on the back of every garment in the saffron thread."