ZEUS+ΔIONE

"CALLAS - Fall-Winter 2023 Collection "

BY SUNA MOYA -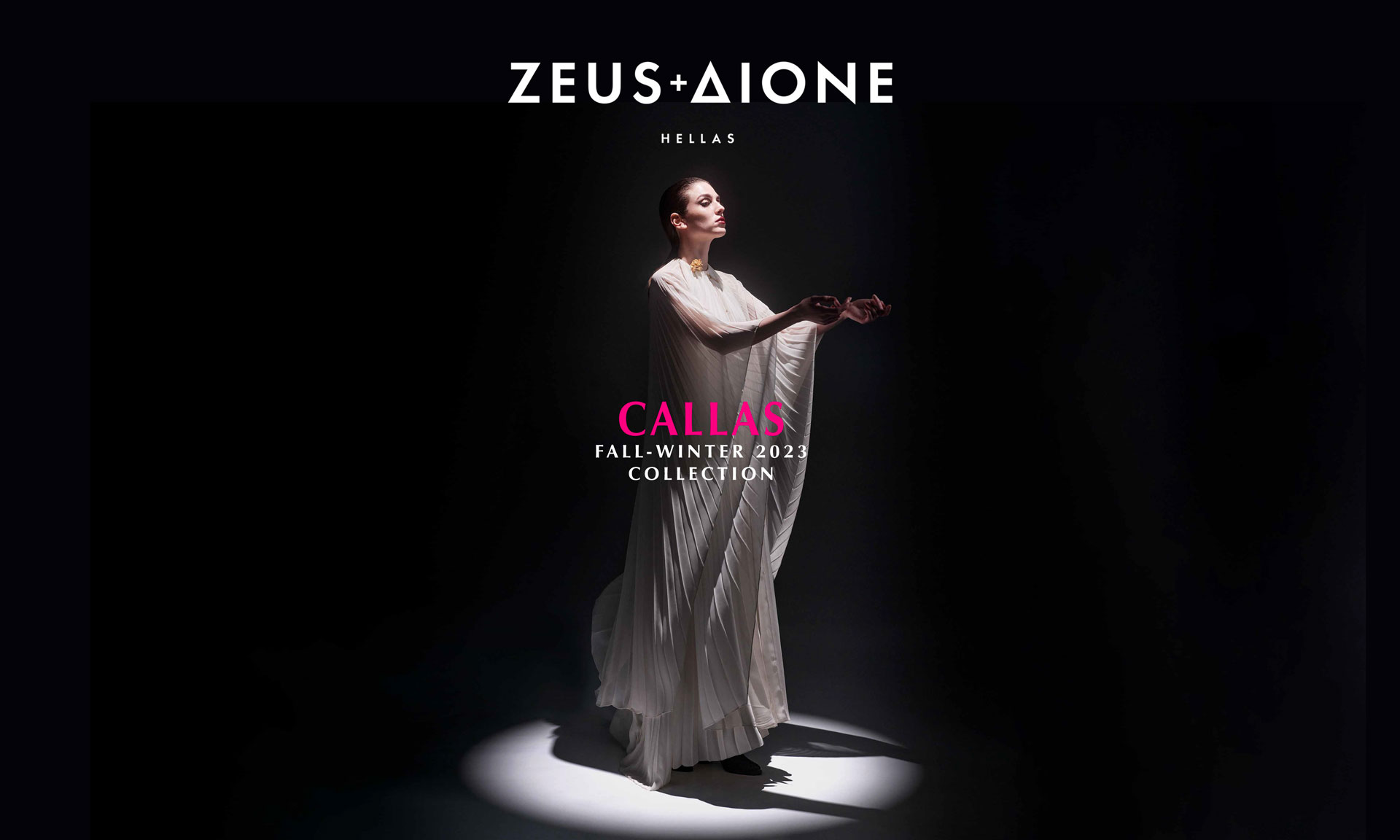 C A L L A S
"Fall-Winter 2023 Collection "




---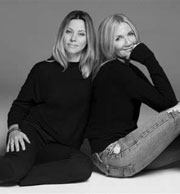 DIMITRA KOLOTOURS
& MAREVA GRABOWSKI
Co-Founders



MARIOS SCHWAB
Creative Director

zeusndione
zeusndione.com

---



Zeus+Dione pays tribute to the iconic Greek diva Maria Callas who would have turned 100 years old this year, by celebrating their tenth anniversary with the 2023 collection dedicated to this incredible woman. Maria Callas is widely considered to be one of the greatest sopranos of the 20th century and holds a legendary status in the world of opera. Her exceptional power is reflected in her commanding and effortless classical gestures, along with her remarkable eyes that leave an indelible mark. Her immense influence on both opera and popular culture is undeniable.

The Callas Collection was created by Zeus+Dione Creative Director - Marios Schwab. Vibrant colours were used to capture the diva's striking characteristics in supple fabrics that adapt to the body with sharp pleats, ruching, and draping, while plush velvet adds richness and depth to the garments.

Zeus+Dione is a premium women's clothing and accessories brand established in 2012 by Dimitra Kolotoura and Mareva Grabowski. Inspired by the culture and mythology of ancient Greece, their collection incorporates traditional motifs with modern aesthetics, showcasing meticulous attention to detail and artisanal expertise. The brand's admiration for strong and passionate women is deeply rooted in Greek heritage, drawing inspiration from goddesses like Athena and Dion as well as cultural icons like Maria Callas. The fashion legacy of ancient Greece remains influential today with its elegant draping techniques and mythic chic silhouettes seen in designs worldwide, including Zeus+Dione's incorporation of contemporary elements.

The collection is typically understated and timeless in its style, focusing on natural fabrics and classical motifs that evoke the beauty and culture of ancient Greece.






---


"During the Paris Fashion Week, we were fortunate enough to have a conversation with Dimitra Kolotoura, the Co-founder of the Zeus+Dione, who shared with us the fascinating story of its development and birth."

QCEG: "It's been 10 years since your company has existed. How did you initially enter the fashion industry?"
DIMITRA KOLOTOURA "I actually used to work in a communication agency in London, while my partner associate worked in finance and economics. We both shared a love for good clothes and a deep interest in fabrics, focusing more on quality rather than following trends. When the financial crisis hit Greece in 2011-2012, we found ourselves reflecting on the situation and considering what we could do to help. There were negative stereotypes about Greeks being lazy, but we knew this was not true. We have so many talented craftsmen in Greece who work hard, and we ourselves are hardworking Greek women. We wanted to showcase the beauty of Greece and its people through fashion. Even though we live in London, Paris, and New York, our hearts are always with our beloved Greece."
QCEG:"As you mentioned, everything is produced/manufactured in Greece?
DIMITRA KOLOTOURA"Yes, we manufacture everything in Greece, so we try to produce the raw materials and weave our own fabrics. We work with the best Greek craftsmanship to produce everything from clothing, jewelry, shoes, and bags - you name it. Our garments always feature handmade elements like macramé and pleats, drawing inspiration from antique Greek columns and architectural styles. We aim to preserve and revitalize these ancient techniques in our modern designs." The fashion industry is becoming an important sector in Greece, with a growing number of Greek designers gaining recognition on the global stage. Greek fashion is known for its unique blend of traditional and modern elements, as well as its emphasis on high-quality materials."
QCEG: "Did you aim to promote Greek manufacturing by producing clothes in Greece?"
DIMITRA KOLOTOURA "Yes, we aimed to promote Greek manufacturing by producing our clothes in Greece. We believe that Greece has a rich history of craftsmanship and high-quality materials, and we want to showcase that to the world through our designs. By manufacturing locally, we support the Greek economy and provide job opportunities for skilled artisans and craftsmen."

"We began with a business plan, carefully outlining our strategies and developing a strong concept that drew inspiration from the heritage of Greek art and traditional culture. Working with Greek experts in craftsmanship, we have successfully executed our vision. It's how we started, and it's why I always say that it has worked. When we presented our first collection in Paris in 2013, the response was amazing - we received our first order. It was a clear sign that our quality and strong design had filled a gap in the market."
QCEG: "In a few sentences, how would you describe your universe?"
DIMITRA KOLOTOURA "This brand comes from a passion for reviving elements of Greek culture, which is expressed through the clothing. We are also expanding into home wear, and we would like to introduce the many styles of Greek artisans to the modern day."
QCEG "I understand that your clothing designs cater to businesswomen, but could you tell me more about the specific type of women who typically purchase your collection?"
DIMITRA KOLOTOURA "I've noticed that many younger women are now wearing our collections, which is quite exciting. Initially, we designed clothes that we, as businesswomen, would wear. However, since working with our creative director, Mario Schwab, we have expanded our designs to include more feminine dresses, minis, and back lace, which appeal to a younger audience. In some cases, we have even seen customers become obsessed with a particular blouse and purchase it in every colour. So, it's safe to say that we now have quite a few dedicated fans. The type of clothes you wear – and the kinds of accessories you use to either jazz them up– says a lot about who you are, where you're from, what you do, and how you feel about yourself and others."
QCEG: "Do you create clothing that you believe empowers women?"
DIMITRA KOLOTOURA "I certainly create clothing that empowers women. Our clothes are made from pure fabrics like silk and designed to have a nonchalant form, making them perfect for travel. They're easy to wear, don't easily wrinkle, and are ideal for the active woman who's constantly on the go and needs to dress quickly while still looking good. Our designs are tailored to women with strong ambitions, opinions, and characters - women who are business-oriented, have families and lead active lives. This is the woman we cater to with our fashion style."
QCEG: "What was the process behind choosing the colour palette for your winter collection?"
DIMITRA KOLOTOURA "Our creative director, Mario Schwab, is always keen to experiment with colour palettes, and for each collection, we dye our signature fabric in new and different hues. For the winter season, we opt for heavier fabrics and a warmer colour range. We use burgundy and green, beige for its versatility, and bold reds that lend a strong appearance to the wearer, along with black and white as timeless classics. These colours reflect the wintry atmosphere and the strength of inspiring women such as Maria Callas."
QCEG: "What do you consider to be one of the house's signature pieces, a classic model?"
DIMITRA KOLOTOURA "Well, it would probably be the blouse I am wearing. People often buy it in all of the colours we have been selling for over ten years, every collection. I would also say that everything that has pleats is very popular, and it's a great selling garment."
QCEG: "So what would you say is the age bracket for your clientele?"
DIMITRA KOLOTOURA "Previously, my perception was that our customer base primarily consisted of women in their forties. However, my understanding has evolved and now I believe that our clientele also includes women in their late twenties. In the current market, age is no longer a defining factor as today's buyers are equally concerned about the fabrics, sustainability, and quality of the products."
QCEG "Where are your collections being sold?"
DIMITRA KOLOTOURA "The label is sold worldwide, mainly in concept stores and international luxury department stores, such as Bonmarché in Paris. Our brand can be found from Tokyo to Los Angeles, as well as in Asia. For example, we supply to department stores in the Middle East (Saudi Arabia, Qatar, and Dubai) and most of Europe. In China, our products are available in Beijing, and in the UK, you can find us at Harrods."
QCEG: "What is the vision for the future?"
DIMITRA KOLOTOURA "Our vision for the future is to create a complete concept that encompasses clothing, jewellery, household products, skincare, and perfume and infuses it with an artistic touch."

"We aim to establish our brand worldwide and plan to achieve this by opening more shops and becoming a dominant force in the industry. While we already cater to women from around the globe, we also aspire to enter the Chinese market as we know that Asian people appreciate Greek mythology and are fond of pleats. We believe that there is tremendous potential for growth in Asia, and we are excited about exploring these opportunities further."
QCEG: "How is the Greek fashion industry at the moment?"
DIMITRA KOLOTOURA "The Greek fashion industry is currently thriving, particularly in the realm of manufacturing. Our label was the first to gain recognition outside of Greece, and it has since become a shining example of success, inspiring a new generation of talented Greek fashion designers and fashion houses"

"I feel an immense sense of joy and pride to see the world finally appreciating the sheer talent of Greek artisans. They are some of the most skilled craftspeople on the planet, and they truly deserve all the recognition they receive."



"Thank you Dimitra..., its been a pleasure chatting with you today."



---
C A L L A S
"Fall-Winter 2023 Collection "
THE LOOKS


---
P R O D U C T I O N
---
Creative Direction
MARIOS SCHWAB

Photography
YIORGOS KAPLANIDIS

Hair
JOSE QUIJANO

Make-Up
ATHINA KARAKITSOU

Models
UZU (D MODELS)
DAN (D MODELS)

s