BALMAIN AT LA SEINE MUSICALE

"Olivier Rousteing is a visionary who has to a notable extend, impacted the younger generations."
2022 SPRING-SUMMER READY-TO-WEAR

BY SUNA MOYA - 23 OCTOBER 2021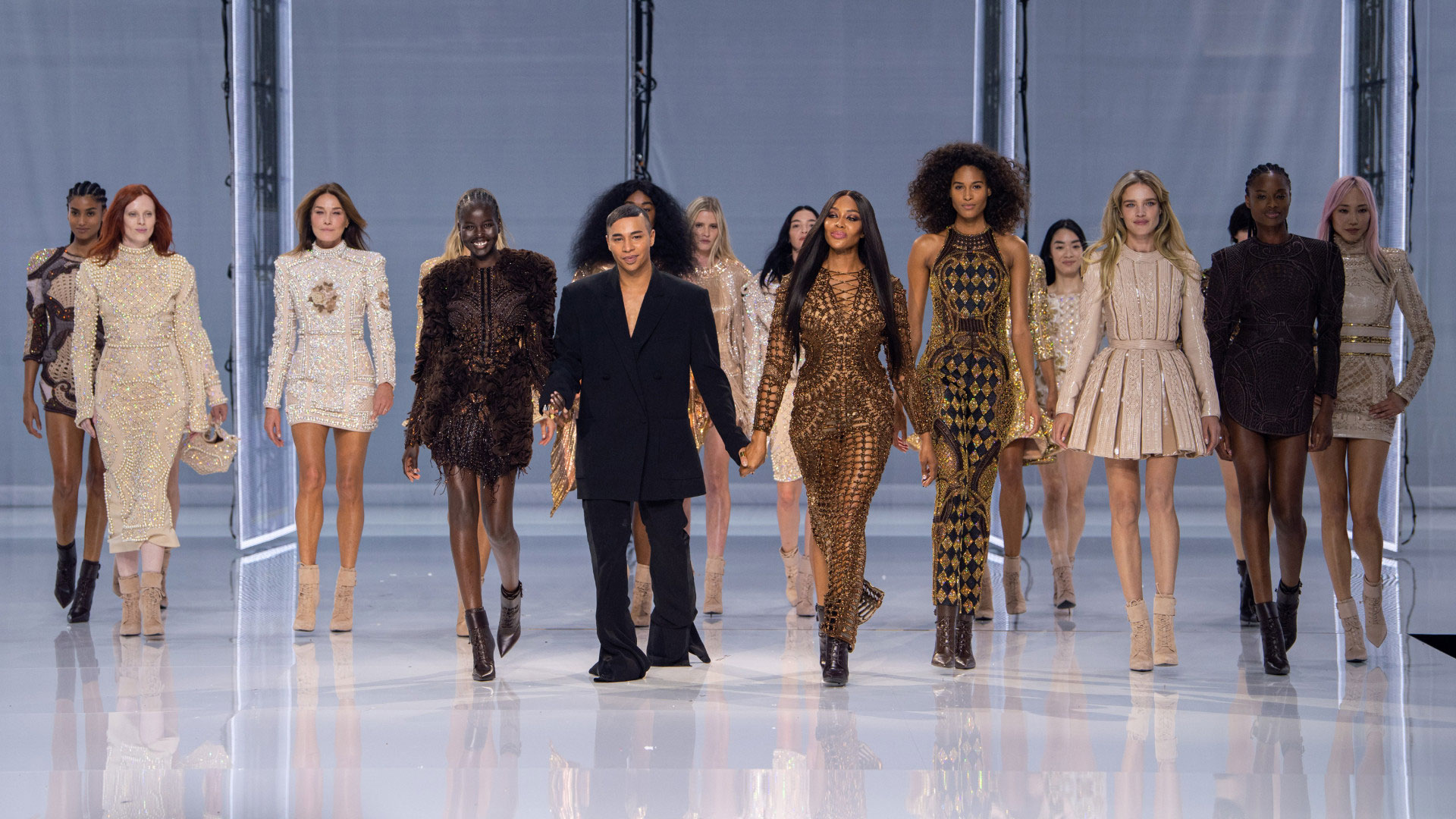 The House of Balmain celebrated the tenth anniversary of Olivier Rousteing as their creative director with an extraordinary fashion show to unveil Balmain Spring-Summer 2022 Collection held in the La Seine Musicale in Paris.

The live ready-to-wear show, with an enormous 6,000 people in attendance, was presented in the heart of a two-day Balmain-run music festival.

Bold, sensual and strong feminine and masculine silhouettes with each their elusive air of elegance, confidence, and energetic attitude graced the stage. Bandage-style wears, cut out dresses, midriff-baring low slung pants and clothes with peeks of skin, all reimagined this season.

Male looks, with oversized structured garments & layered styles, and gold chain accents depicting urban and modernity with sharp & cool cuts. White, black, gold, beige and red were the keynote colours. Accentuating the ensembles are chunky gold chains, futuristic sunglasses, puffer and oversized clutch bags.

The second part of the fashion show opened with a profound pre-recorded message from Beyoncé to Olivier. The audience listened attentively as the second part began.

In one part of the message, Beyoncé said: "You brought a new mindset to help persuade fashion to finally begin to reflect the real true beauty of today's streets, the beauty that you and your team see daily on the diverse impressive boulevards and avenues of your beloved Paris," "And from day one, you did the right thing. You knew from the start that actions speak so much louder than words. So you've taken a stand, made the commitments and followed through at every step of the way."

Naomi Campbell, wearing a mesmerising signature Balmain walked down the runway with her powerful and sensual movements. Other beautiful models included Milla Jovovich, Natalia Vodianova, and Carla Bruni. The superstar models walked down the runway wearing a decade of Olivier Rousteing statement dresses, each dress leaving an impression and its moment in time.

Balmain continues to be a successful fashion brand today with a huge celebrity following.

Olivier Rousteing was one of the youngest and one of the first black designers to become a creative director of an iconic French fashion house ten years ago when he was 25 years of age. He expanded Balmain appeal to a variety of people with different tastes and body types. He brought an awareness of diversity to the forefront of fashion.

Olivier Rousteing is a visionary who has to a high extend, impacted the younger generations.
BALMAIN AT LA SEINE MUSICALE
"Olivier Rousteing is a visionary who has to a notable extend, impacted the younger generations."