THE HOUSE OF CHRISTIAN DIOR AND ITS CONTINUAL INNOVATIVENESS

"Dior Spring-Summer 2022 Haute Couture Collection"

BY XIAO XIAO - 7 FEBRUARY 2022
THE HOUSE OF CHRISTIAN DIOR AND ITS CONTINUAL INNOVATIVENESS
"Dior Spring-Summer 2022 Haute Couture Collection"
---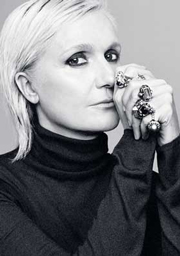 MARIA GRAZIA CHIURI
Artistic Director of Dior

https://www.dior.com
@dior



---

Dior Spring-Summer 2022 Haute Couture Collection was held at the Rodin Museum in Paris on 24 January. Maria Grazia Chiuri's collection for this season collaborated with modern artists - Madhvi Parekh and Manu Parekh from India whose artistic impressions and creative embroideries inhabitating the ambient with its visuals on the walls surrounding the set for the show. It took 380 embroidery handicrafters in their Chanakya workshop and Chanakya Craft School in Mumbai to complete and bring to life the embroidery works with their superb skills and needleworks.

Madhvi Parekh and Manu Parekh look at things in their lives.., think independently and question things, and then express them artistically. They wandered between reality and the spiritual world. Isn't innovation the constant subject to questioning and bold practices? How can we progress while standing still, and how can we feel the changes in the world?

The collection of Maria Grazia Chiuri for Dior compresses of embroidered woven tulle bodysuits which are embellished with sequins, crystals and beading, for their sleek silhouettes that are dazzling and mysterious.

The collar of the double-breasted gold button jacket is handmade by couture handicrafters who weave each beaded thread into the fabric. They are exquisite and represents the atractiviness of Dior Couture Handicrafts where patience and concentration are of the essence to complete.

Different kinds of embroidery handiworks are applied to create three-dimensional allurement on the fine white coats. The eye-catching white cloaks with pieces of square off-white cashmere were sewn together in details perfectly done through exquisite craftsmanship for the overall aura.

The simple atmospheric cloaks, matched with trousers, blend with the soft temperament of women.., gives birth from the inside to a unique feminine disposition.

Black suit with leather, retro and refined, accentuated the freedom and sophistication of women.

Evening dresses sparkle beautifully with their delicate embroideries and pleating artisanship. Sequins and crystals are inlaid all over the body, like the elves-in-the-night.



DIOR

Spring-Summer 2022
Haute Couture Collection
DIOR
"Spring-Summer 2022 Haute Couture Collection"