A COLLISION OF INSPIRATION IN THE CANDY-COLOURED CAROUSEL BY DIOR

"The candy-coloured turntable game is not only a collision between Christian Dior's history and the present, but also the interaction between contemporary women."
2022 SPRING-SUMMER READY-TO-WEAR

BY XIAOXIAO - 1 OCTOBER 2021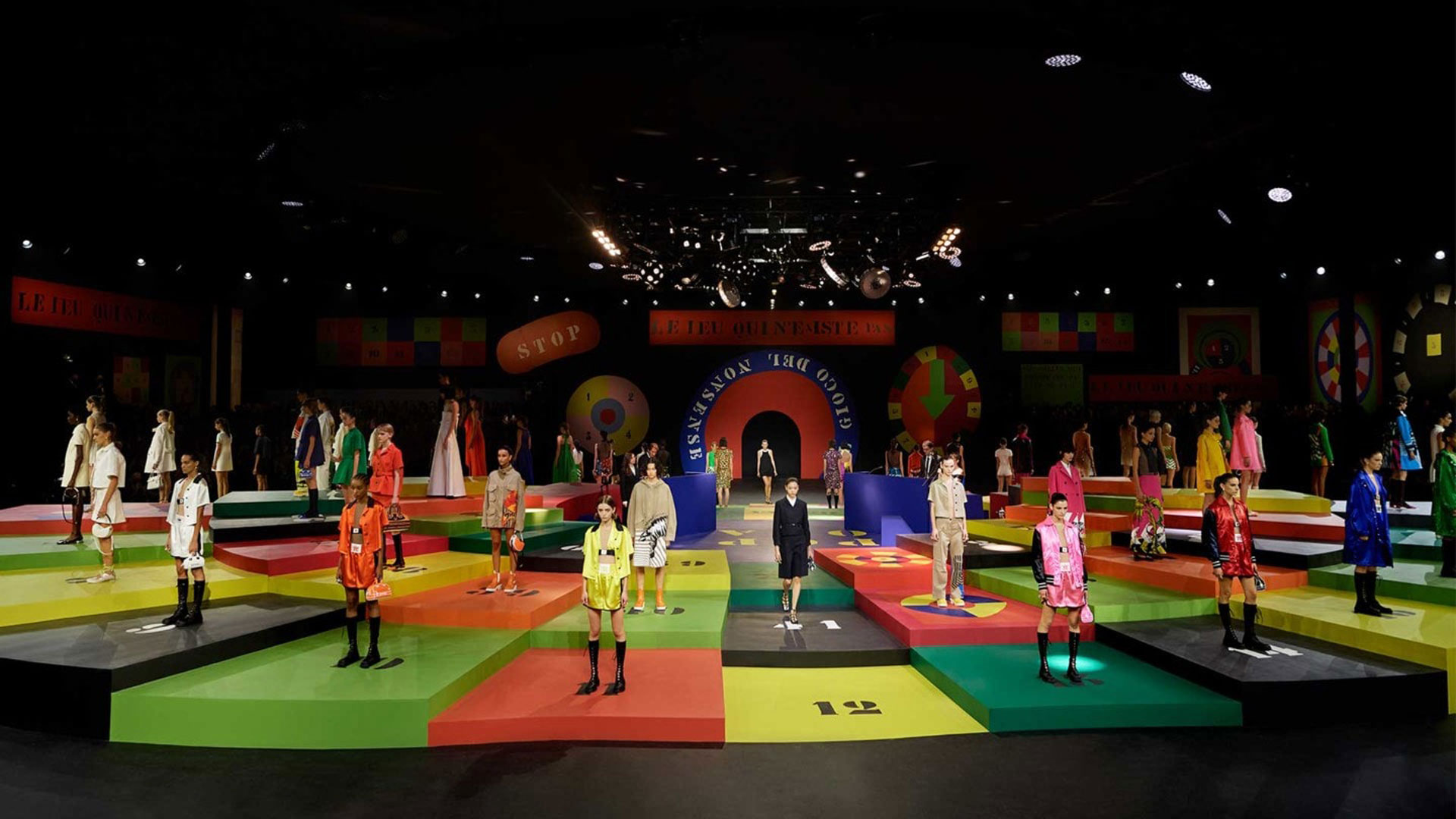 Under the spots of rotating disco lightings, the Dior 2022 Spring/Summer Collection got underway with models parading on a multi-colours and elevated turntable stage rhythmically with live music..., all revolving simultaneously.

Maria Grazia Chiuri and artist Anna Paparatti worked together to create this colourful show. Anna Paparatti's geometric graphics are used as the core and game-themed. This collection sees the rare use of bright colours by Maria. It's like a candy turntable game.

Maria delved into the "Slim Look" designed in 1961 by Marc Bohan - the designer of Christian Dior for nearly 30 years. This collection also presents the stunning work of the "New Look" released by Christian Dior in 1947.

Maira is vivid observer on details of the modern lifestyles. Starting the show, the opening model wore the elegant style "Slim Look" of the '60s stepping into view one by one with their short skirts and Mary Jane shoes. She made the elegantly styled suit a little more casual to fit the modern women.

The gorgeous colours of the mini-skirts in navy blue, orange, green, yellow, pink animals and line patterns with exquisite tailoring presented smooth lines enhancing vitality and strength.

Light classic tassels and lustrous short skirts are becoming the charming "little beast" for the nightlife wears.

Since the pandemic has made most of us more enthusiastic about sports, vibrant nylon and silk "boxing" shorts and clothing reflect the changes in our daily lives. Modern women's clothing is not only elegant and dignified but also a display of strength of vitality.

The candy-coloured turntable game is not only a collision between Christian Dior's history and the present, but also the interaction between contemporary women.
A COLLISION OF INSPIRATION IN THE CANDY-COLOURED CAROUSEL BY DIOR
"The candy-coloured turntable game is not only a collision between Christian Dior's history and the present, but also the interaction between contemporary women."