FLYING SOLO
"The 2020-21 Fall/Winter Paris Fashion Week Presentation"

By Suna Moya - 16 JUNE 2020
FLYING SOLO - The Fall/Winter 2020-21 Paris Fashion Week Presentation
Photography By CHRISTINA V HENNINGSTAG
Photography Assistant SERGUIE CHATEL
Show Management FLYING SOLO
Hair ECRU New York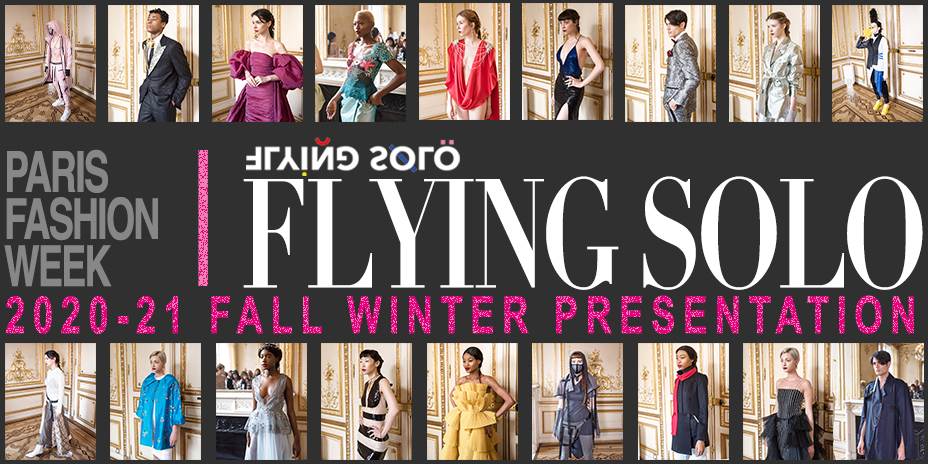 The presentation show featured collections of clothing, accessories, jewelry, and shoes amid a packed house of top media, influencers, stylists, and industry mavens. The space was full and buzzing for the entire two hour presentation proving that this has become the new scene for discovering fresh design talent from all over the globe.
Designer's collections offered something for every taste from Art Point's avante garde accessories such as yellow pacifies and irons to show stopping tailored jackets in fabrics ranging from 3m to leather from Maturos New York, and street style kids wear from Kicomo by Kiara C. Marrow. The presentation gave attendees a real window onto looks trending from all corners of the globe.
Flying Solo is a curated fashion incubator, giving designers opportunities for retail presence at their swanky boutique in Soho, showroom representation for editorial and celebrity pulls and runway show opportunities during New York Fashion Week. The brand has become an industry disruptor leading to praise from top media outlets.
Founded by designers themselves and in just 3 years since opening, Flying Solo has proved to be one of the biggest fashion platforms launching the careers of many independent designers. It was created as a unique, curated fashion retail incubator and showroom operated by a selection of talented, independent designers. Consist of like-minded, creative and connected fashion professionals, its focus is to close the gap between designers and consumers while exposing collections to press and media.
For more about Flying Solo, click here → flyingsolo.nyc
FLYING SOLO - The Fall/Winter 2020-21 Paris Fashion Week Presentation

FLYING SOLO - The 2020-21 Fall/Winter Paris Fashion Week Presentation
- Photographed by Christina V Henningstag