THE SPLENDOUR OF GIORGIO ARMANI
"A noteworthy decision by Giorgio Armani on this year's Fall/Winter Women's Wear Show"

By XiaoXiao - 28 FEBRUARY 2020
THE SPLENDOUR OF GIORGIO ARMANI
This year's Giorgio Armani Fall-Winter Women Wear Fashion Show is different from the past. Because of the dangerous impact of the Coronavirus (COVID-19) epidemic, and to protect the health of all guests attending the show from possibly getting infected, he decisively cancel the traditional show 24 hours before the event date. Instead the show was broadcast live through the Giorgio Armani's official website and social media.
Giorgio Armani's 2020 Fall/Winter Fall/Winter collection is based on the VELVET NOTES theme. The style of the 85 pieces from this collection combines elegance and classic lines with the soft romance of velvet presented by models and touching music composition.
A LED screen surrounding a central stage subtly showing the clear ripples of snow, contrasting with the mystery and elegance of black velvet, giving a solemn and romantic atmosphere. Among the 85 silhouettes, there are also pink, blue-green and pearl gray elements. Pink will surprise any women at any time. His colourful prints made everything look so vibrant.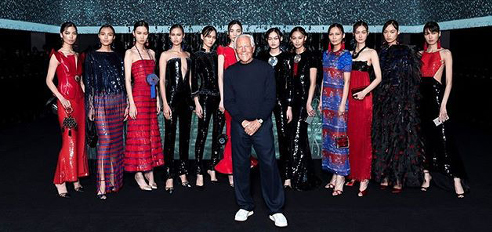 At the show's finale when the last model stepped off the runway, the elegant music from Rakhmaninoff's "Paganini-themed Rhapsody" played and Giorgio Armani together with 12 models step back to the stage with a message of love for China. China is a country with which the designer has always maintained a special bond, both aesthetically and culturally. The twelve models were wearing a selection of looks from the Giorgio Armani Privé SS 2009 and 2019 collections that were specifically inspired by China.
THE SPLENDOUR OF GIORGIO ARMANI