PRADA BRINGS NEW EXPERIENCES

"The Joint Force of Miuccia Prada and Raf Simons Brings New Experiences and Paving a New World for Prada."
2022 SPRING-SUMMER READY-TO-WEAR

BY XIAOXIAO - 27 SEPTEMBER 2021
PRADA BRINGS NEW EXPERIENCES
"Miuccia Prada and Raf Simons joined forces to create new experience paving a new world for Prada."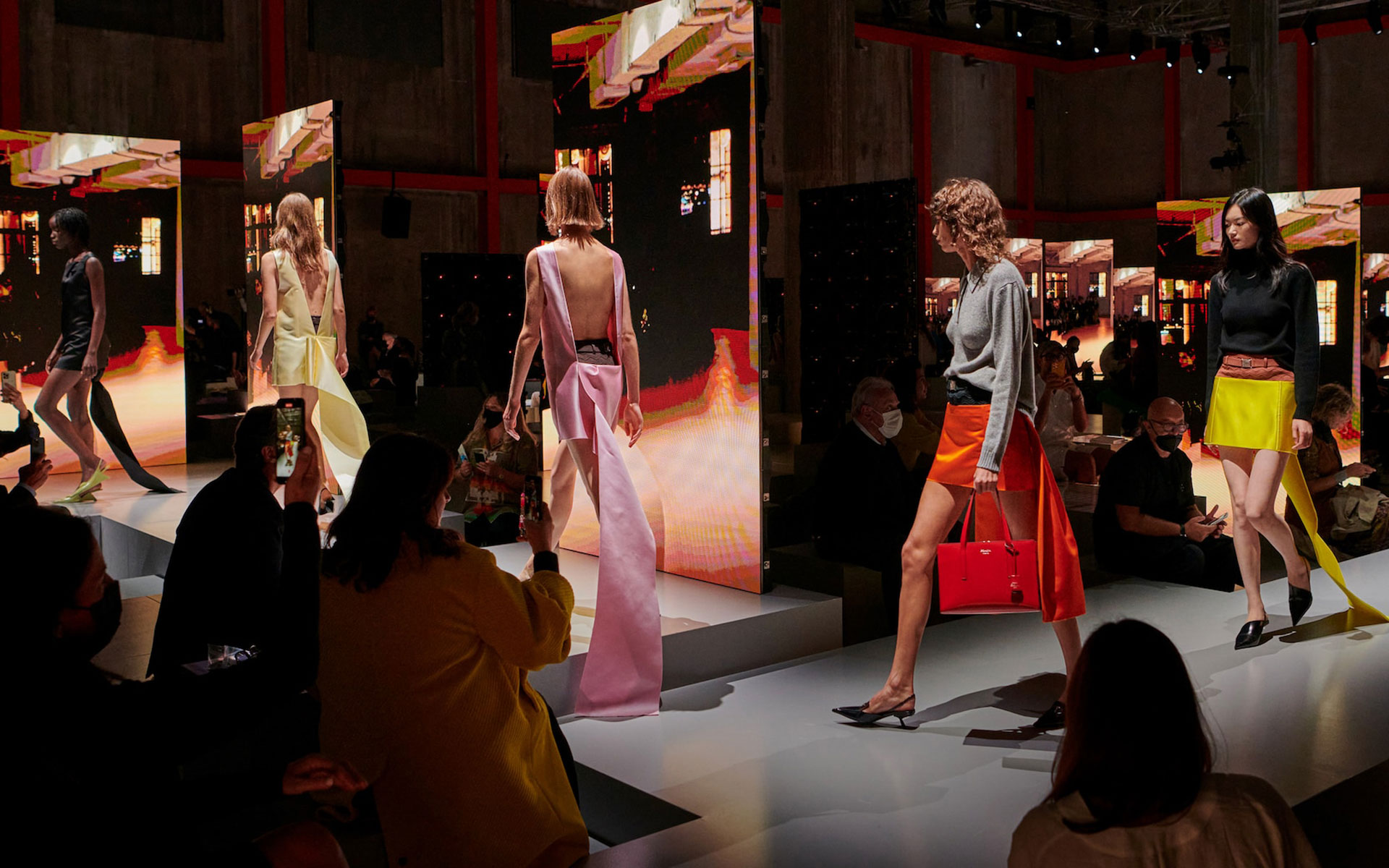 Mario Prada opened the first Prada boutique in 1913 located at an cionic landmark in Milan - Galleria Vittorio Emanuele II which remains till today. In 1919, Prada became the official supplier to the Italian royals.

Their long history is forever leaving traces after the years. When Galleria Vittorio Emanuele II arcade revealed problems due to long-term failure to maintain its property, Prada and Versace jointly invited an Italian professional heritage restoration company to start the restoration project. The restoration began in March 2014 and completed in April 2015. It is one of the oldest shopping malls in the world. Galleria Vittorio Emanuele II Promenade reproduces the original beauty of exquisite architectural craftsmanship.

Today, many cities around the world can see the footprints of Prada. Starting from Prada's birthplace Milan, wherever Prada ventures to, Prada first and foremost respects the culture and history of the respwctive city. Prada studies, explores, and then establishes a unique connection with the respective city. The whole process of integration represents the cultural heritage of Prada brand.

In early autumn of this year, Miuccia Prada and Raf Simons spoke on revealing Prada's 2022 Spring/Summer Collection for the Milan Fashion Week through conventions and new technology for deeper sharing and communication aims. This week during the Milan Fashion Week, Prada simultaneously hosted their collection at the Prada Foundation, Deposito in Milan and Shanghai Bund 1.

The collection also featured traditional dresses, corsets, evening dresses and curves brought to new heights for the current era. Miuccia Prada and Raf Simons inovatively make everything more avant-garde and streamlined for the modern women's life.

Silky and light mini skirts elaborated with tails, sleeveless & long-sleeve tops, suits in high-quality fabrics and exquisite tailoring are the choices for this season. They are matched with old leather jackets and pilot jackets to create that visual impact of endless vitaly. Free from constraints are comfortable retro knitted sweater essentualing the bust-contures.

Handbags are mainly black and red, retro, simple and practical classic style, which is the choice of women in daily life.

The joint force Miuccia Prada and Raf Simons joined created a new experience paving a new world for Prada. This is a juncture that becomes part of the history of Prada's century-old luxury brand. The entire world's fashion history records this show.
PRADA BRINGS NEW EXPERIENCES
"Milan Fashion Week"